Back at the premarket on Friday, shares of Chinese electric car manufacturer, NIO, fell. The decline continued in the trading session itself.
At the time of writing, NIO's share price is trading at $10.87, which is a 16% drop. The reason for this was the change in the rating from Hold to Sell from Goldman Sachs.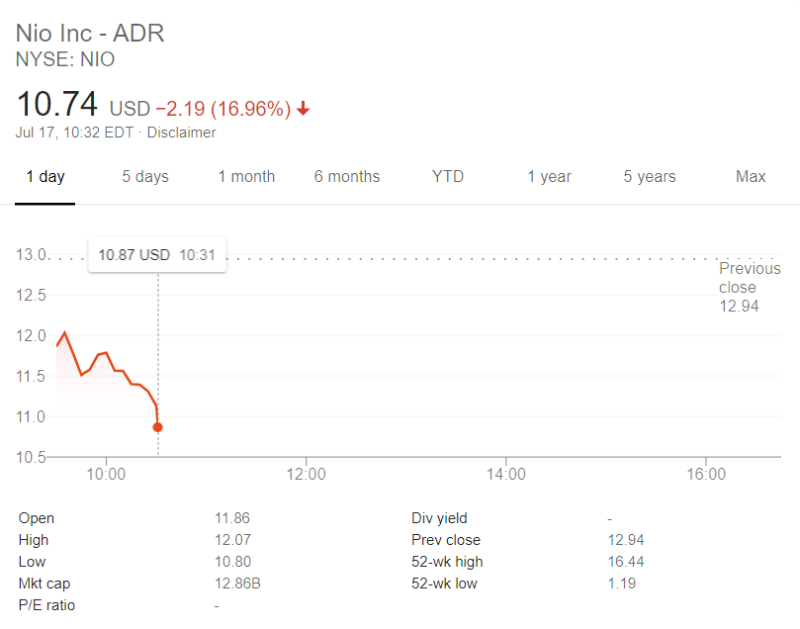 Image source: Google Finance
An analyst from Goldman Sachs, Fei Fang, has expressed concern with the assessment. After being favourable since early October, he cut off his ranking to sell. His goal stock price is $7, down from $12.94 on Thursday, which is 46%.
Fang stated, in the long term, he believes Nio's case of investment depends on Chinese systemic car premiums and EV acceptance coupled with China's first home-grown high-end passenger car brand.
Back to Thursday, the stock has more than tripled, by 222%, while U.S.-based rival, Tesla Inc., has almost tripled the market share of TSLA, with – 0.33% (up to 259%).
Nio's main competitor in the market of electric cars remains to be American Tesla. Let us recall that the company increased sales of the Model 3 car by 23% in June.