The electric truck manufacturer and hydrogen supplier announced a deal for 2,500 electric, zero-emission garbage trucks for Giant Republic Services waste management. The price for the deal was not revealed. Up to 5,000 lorries will be extended.
Full production is scheduled to start by 2023 – the road testing will have begun by 2021 and 2022. Trevor Milton, the head of the company, announced that on Twitter.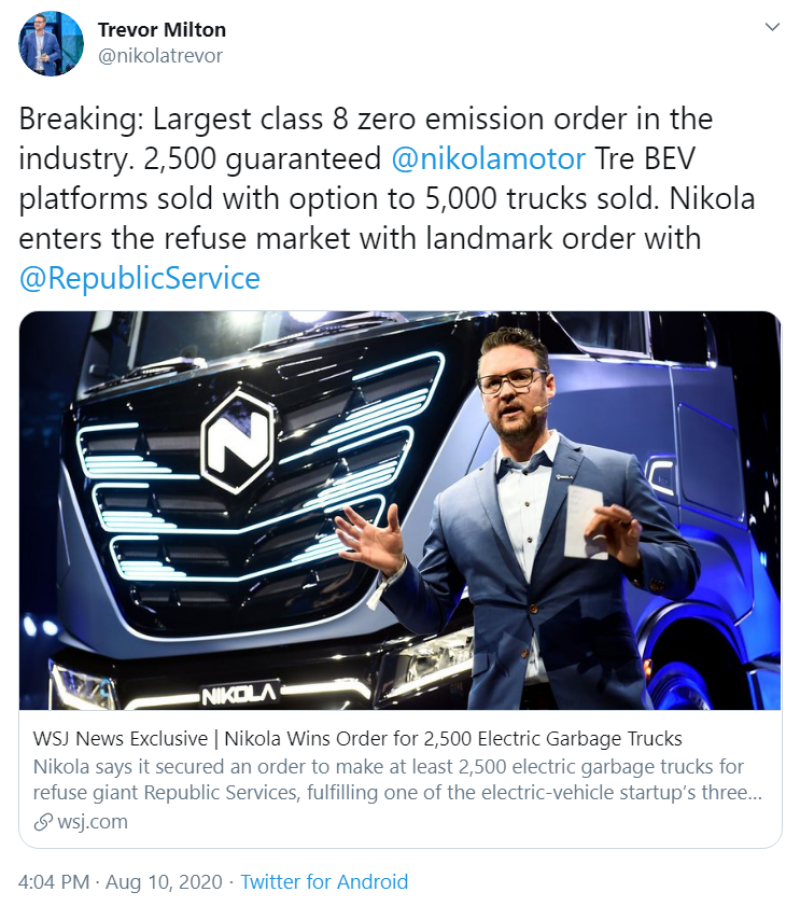 Image source: Twitter @nikolatrevor
Each truck is limited to 1,000 horsepower by its powertrain program. Heavy-duty, non-emitting vehicles in class 8 are the primary targets in Nikola.
The refuse market is one of the most stable markets in the industry and provides long-term shareholder value. Trevor Milton, CEO of Nikola
The Republic Services deal contributes to Nikola's semi-truck backlog of 14,000 vehicles with future sales worth $ 10 billion.
The first electric semi driven truck for Nikola is expected to be on the market by 2021 — the production of which hasn't started yet. New opportunities for hydrogen-powered systems are going to be explored by 2023. The firm recently opened its Arizona manufacturing facility. The plant generates 35,000 units a year in two phases until phase three is completed.
Certainly, since the business launched in June, the Nikola's shares have been very unpredictable. In less than two weeks, the stock almost tripled to $94, in the hype around the new technology and its potential to compete against Tesla. Since then, it has fallen to $36 or so, because investors understand the production and business model of the company.