The fall of Nikola's shares, a manufacturer of electric trucks, continues. Nevertheless, the company keeps increasing production capacity and opening factories one after the other.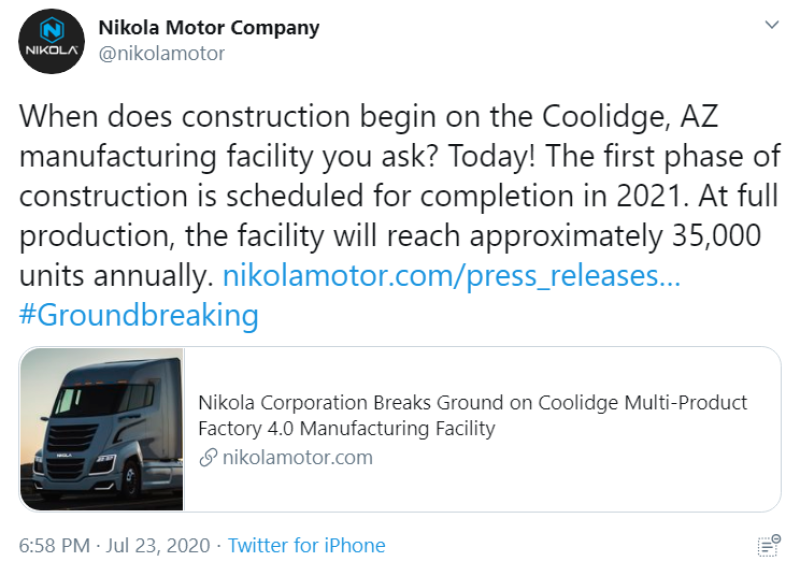 Image source: Twitter @nikolamotor
At the same time, the Nikola stock (NKLA stock) negatively reacts to this news. It seems that the strategy of 'buy on rumors, sell on the news' takes on a new meaning. Let us recall that the company's shares significantly rose from $13 to $70 in just a few weeks.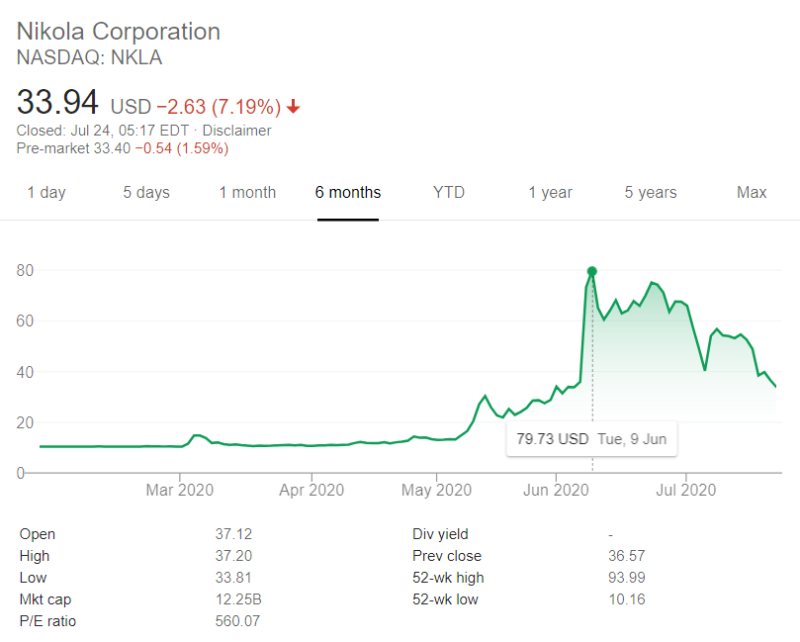 Image source: Google Finance
What is Special About New Factories?
Arizona's plant is supposed to provide over 1,800 additional full-time jobs, resulting in total capital investments of nearly $600 million.
The zero-emission plant will build 35,000 commercial semi-trailers of class 8 per year, working in two shifts.
It is estimated that the facility will fill up 1 million feet. The city has not tested the proposed sites yet, but the project is expected to be initiated in August, according to Rick Miller, a local office's city manager.
When Will Production Start?
The first phase is scheduled to be finished by the end of 2021, and the second phase is planned to be finished within the next 12-18 months. The US-based factory will first manufacture Nikola Three and Nikola Two, which is an investment of about $600 million.
The plant's goal is to manufacture 35,000 units per year, which will be accomplished in two shifts. The first Nikola Tre trucks will be manufactured in Ulm, Germany, with a help of their partner, IVECO, and our Coolidge factory will shortly begin its own production.
Can such positive news affect the stock price? In case of Tesla, news caused some rapid growth. Nikola is usually compared to Tesla, so will we see a similar trend with Nikola?