Earlier this month, Microsoft said it was negotiating with the owners of TikTok to acquire multiple divisions of the app. Later it became known that Twitter wanted to join the race as well, and a few days ago, Oracle also declared its intention to acquire the popular video-sharing application.
Insiders Say the MSFT is the Most Likely Going to Win
However, a journalist Liz Claman informs that her sources close to ByteDance, the Chinese company that owns Tiktok, assure that Microsoft is the leader in this race. The deal will be signed before September 15th, the deadline set by Donald Trump for the sale of TikTok to one of the American companies, to avoid leaks of user data abroad.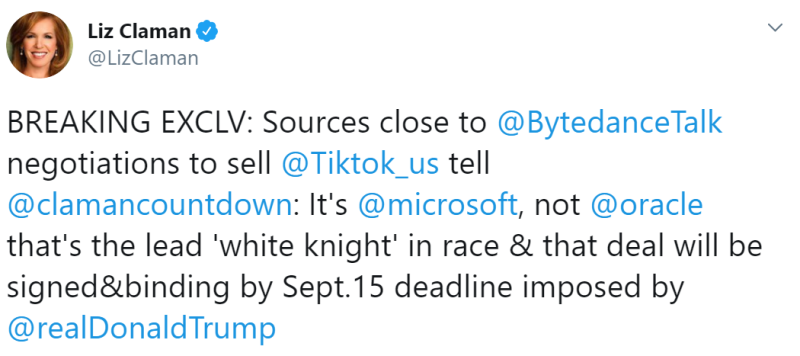 Image Source: Twitter @LizClaman 
According to her article, sources claim that
"[negotiators] can't count out a dark horse, Microsoft, with a market cap of $1.3 trillion, is the white knight" Liz Claman's sources
Thus, they list the advantages of Microsoft in the form of the market capitalization of more than $ 1.3 trillion, as well as impressive cash deposits. However, the same sources also clarify that the transaction itself is likely to be completed at a later date, within 120 days.
Moreover, insiders also shared information that Microsoft has shown interest in buying the TikTok U.K. division, but ByteDance does not want to sell assets that are not under pressure. In addition to the United States division, the deal will also include assets in New Zealand, Australia, and Canada.
MSFT stocks are Losing a Little in Its Value
The market reacted to the news in a rather restrained manner, shares lost 0.44% during the day. Apparently, the entire growth has already been spent, and now investors expect more specific information about the deal from the Microsoft itself.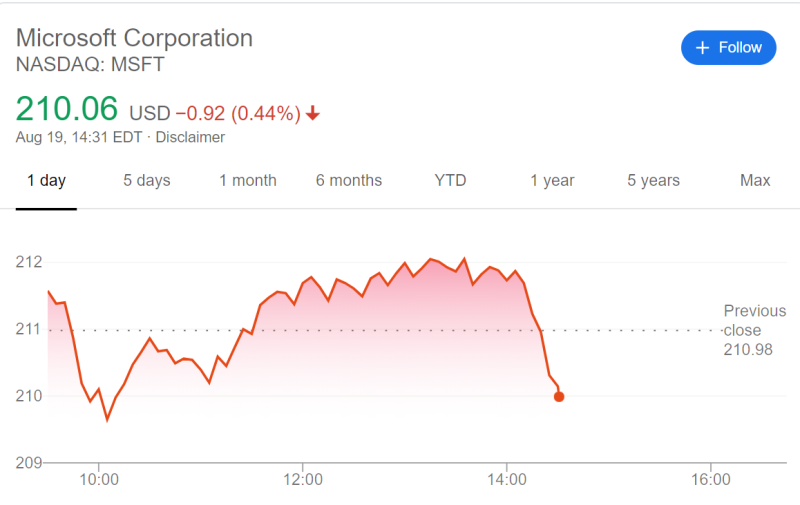 Image Source: Goolge Finance MSFT