U.S. International Finance Corp. decided to freeze the loan for the Kodak company.
Why did Kodak stocks Rise by 2000% in two days?
Two weeks ago, Donald Trump announced he was going to provide a $765 million loan to the Kodak Corporation, that produces camera-related products.
These funds were to be used to open a new division of Kodak, which should deal with the development and distribution of pharmacology in the United States, to reduce dependence on foreign companies. Against the backdrop of this news, Kodak shares rose in price by more than 2000% in a few days.
DFC Freezes the Government Loan
However, the U.S. International Development Finance Corp. (DFC) made an announcement  on Friday that it would not allow a $765 million loan for drug manufacturing to Kodak until the company will be cleared of all financial wrongdoing charges.

Image Source: Twitter @DFCgov
The DFC said it would not provide the loan that the US government announced last month to the camera equipment manufacturer to help it move into pharmaceutical industry. The DFC stated that the problems identified were serious, and that it should freeze all payments until the charges are proven wrong.
This spike prompted another look at the details of the loan from the chairman of the US House of Representatives Financial Services Committee, Maxine Waters. She also called on the Securities and Exchange Commission to examine the details of the stock options granted to management by Kodak a few days before the DFC's statement.
KODK Stocks Fell by 30%.
The market reacted extremely negatively to the DFC's decision. At the premarket KODK shares fell by more than 40%, but by the beginning of the main session they managed to become slightly stabilized. Now trades are running at a price 30% lower than they were on Friday.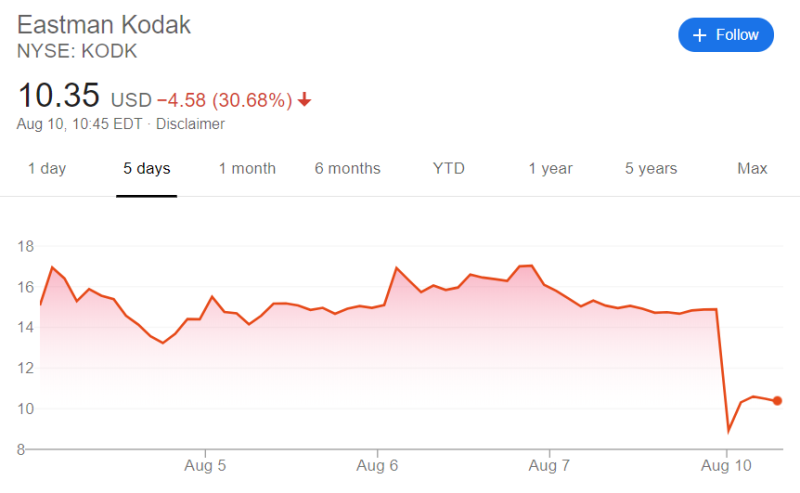 Inmage Source: Google Finance KODK
In general, the timeline of this Kodak's story can be represented as follows:
| | |
| --- | --- |
| Date | Event |
| July 28 | President Trump announced a $765 million loan for Kodak, stocks rose by 2000% |
|  August 7 | Maxine Waters asked SEC to check operations with KODK stocks an options, but the price grew by 5% |
| August 10 | DFC stated it freezes the government loan, KODK stocks dramatically fell by more than 30% |