IPO ETF Hugely Outperforms S&P 500
Michael A. Gayed, a portfolio risk manager and an analyst, reports that the Renaissance IPO ETF, which is tied to companies that have completed an initial public offering, is performing significantly better than the S&P 500 this year.
The Renaissance IPO ETF has hugely outperformed the S&P 500 this year and the companies are milking this bullish sentiment. 14 new IPOs will hit the public market this week, the most in a week since 2014. #stocks #markets #economy #investing #financialservices Michael A. Gayed via Twitter
Returns of IPO ETFs are just under 60% for 2020, while returns on the S&P 500, which includes the 500 largest US companies, are up 5% YTD.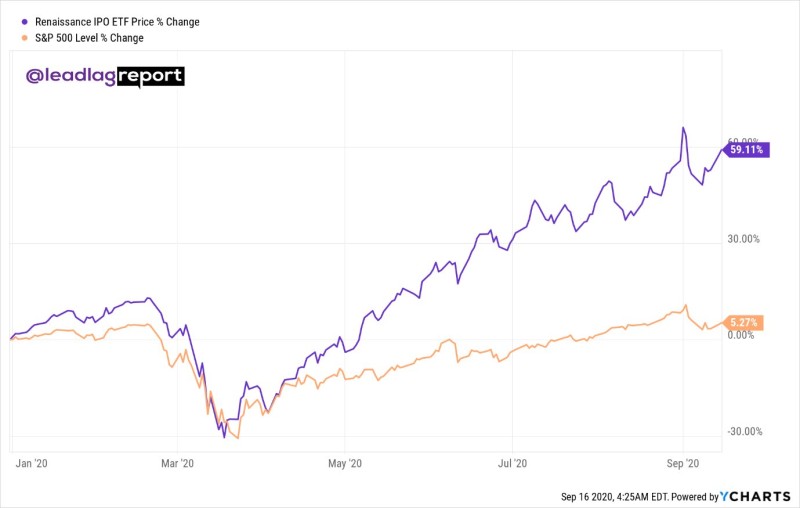 Image Source: Twitter @leadlagreport
Mr. Gayed also states the companies are looking to skim the cream off this growth with 14 more new IPOs expected this week alone.
The last most notorious IPO took place less than a week ago. The initial price of Snowflake, a cloud-based data-warehousing company, more than doubled during the first trading day, grew from $120 to $245, making this IPO the largest software company ever.
The Best Year for IPO
The fact of such an incredible excess does not seem so unexpected when you recall that the average increase in the value of shares on the first day after the initial public offering in 2020 was 57.5%.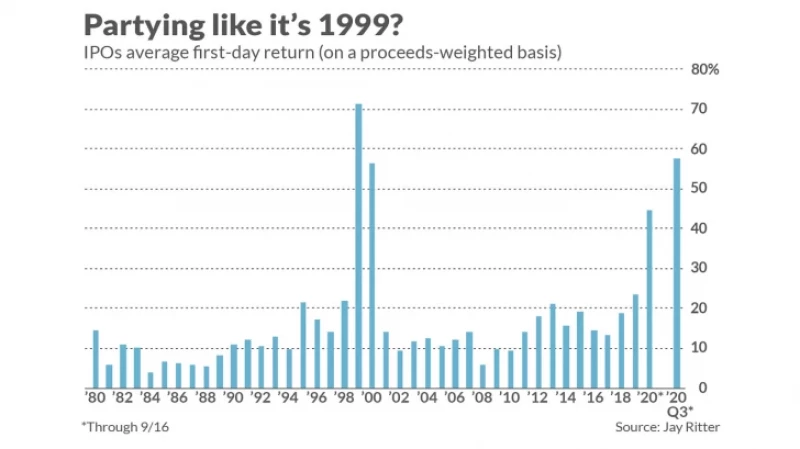 Image Source: marketwatch.com
The biggest one-day growth was only seen in 1999, at the peak of the Internet company mania, which later escalated into the dot-com bubble.