According to Bloomberg, the American energy company Chesapeake Energy (CHK) is preparing a statement of potential bankruptcy, which could lead to the transfer of control of the company to its senior creditors, people who are knowledgeable in this matter.
The collapse of oil prices hit the shale field developers the most, the extraction of which is unprofitable at low prices for raw materials. One of the industry pioneers, the American company Chesapeake, was in a disastrous situation: it entered the crisis with a huge debt which became difficult to maintain due to a sharp drop in income.
However, it has not stopped the price of a share to skyrocket by almost 200% over the last 24 hours.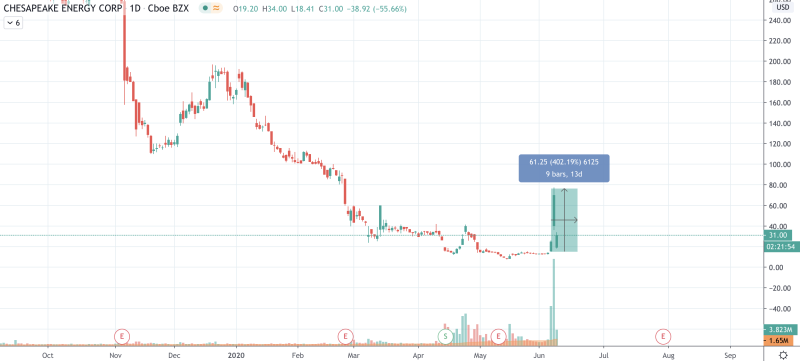 Image source: TradingView CHK
The quotes fluctuated so much that trading was suspended 22 times. The overall growth over the last five days has exceeded 400%.
Chesapeake was already in a precarious position before the outbreak of Covid-19 led to a sharp drop in oil demand. At its peak over a decade ago, the company was valued at $37.5 bln. But its success in extracting fuel from deep rocks contributed to a strong gas surplus.