Apple's Volatility Grows Despite Apple's Bullish Trend
The volatility of stock in the technology company, Apple. is again approaching the levels that the market saw 20 years ago, in March of 2000 in the midst of a dot-com bubble, according to The Market Ear.
Exploding vols as upside panic squeezed every dealer and now we have to care about the possible downside "panic". VXAPL back to March levels. The Market Ear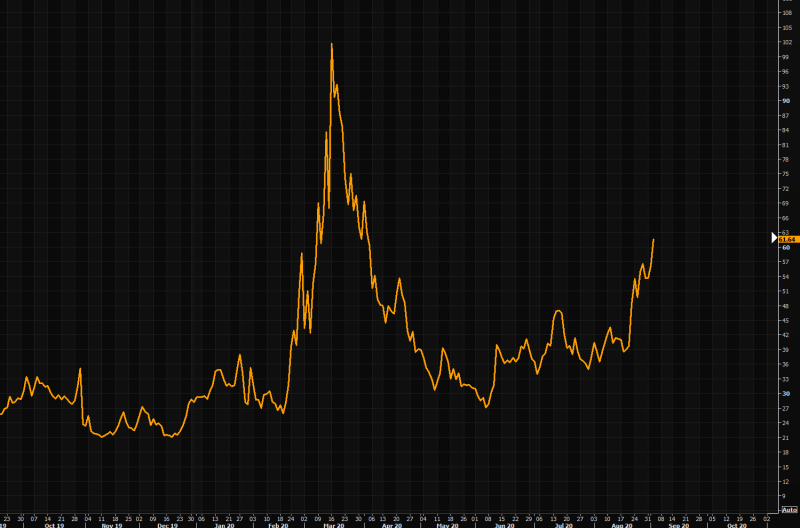 Image Source: themarketear.com
This move looks more unusual also because volatility usually rises sharply when market falls. Throughout 2019, which was extremely successful year for Apple's stock, they rose by about 100% in 12 months and the stock's volatility decreased. However, Apple's stock has grown at a rapid pace in the past few months.
Only at the end of July, the capitalization of Apple was $1.5 trillion. Now, in early September, it is close to $2.3 trillion. According to The Bear Traps Report, Apple is trading nearly 65% ​​above its 200-day moving average vs. 42% bull run in February.
Target Price Premium Is the Highest in the Last Few Years
Besides, Apple's shares are currently trading at a premium of about $24 in relation to the target price from 44 analysts.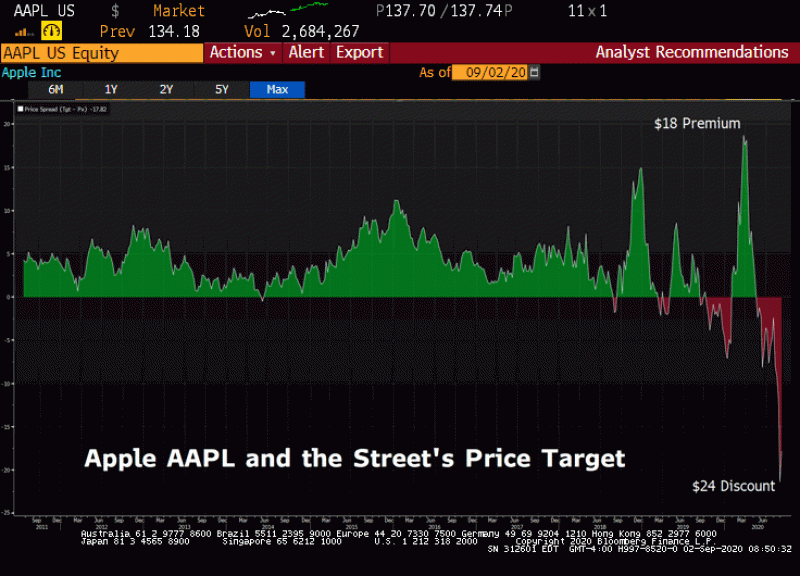 Image Source: thebeartrapsreport.com
All these factors combined can quickly lead to the fact that at one moment the greed of the market will be replaced by fear, which will lead to a sharp drop in prices, as was the case in March of 2000, when the volatility was at similar levels.
Earlier, Apple's shares demonstrated significant growth after the split was announced. In August, the stock rose by more than 20%. On the very day of the split, Apple's shares, along with Tesla's and Amazon's ones, were the only ones who pushed the Nasdaq 100 up.