Insider Selling Growth.
Michael A. Gayed, an analyst and a risk manager, noted that in March when the companies' stocks fell insiders began buying rapidly them. As a result, the price of these companies increased. Then the "buy the dip" strategy worked.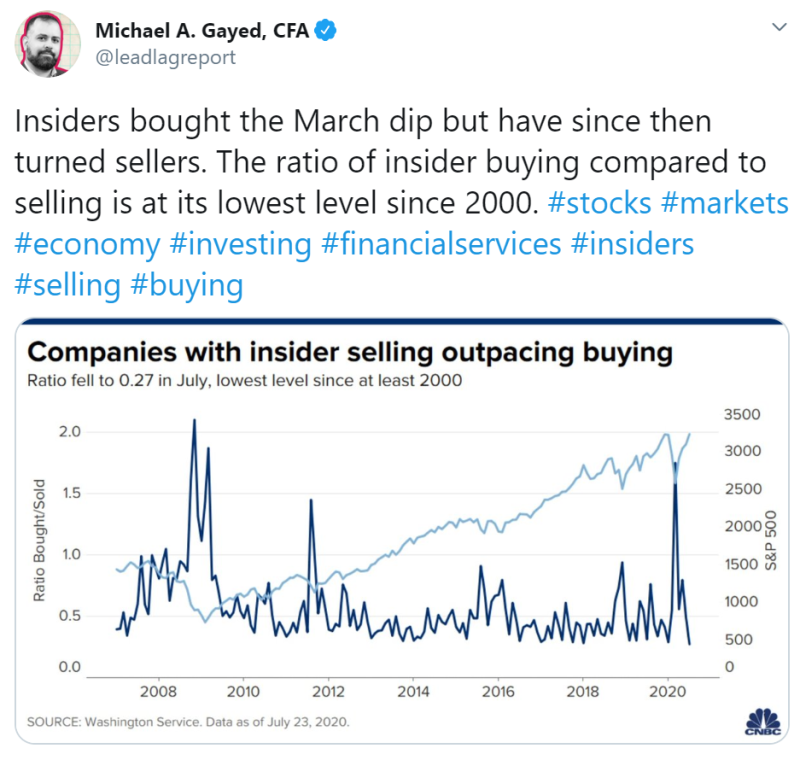 Image Source: Twitter @leadlagreport
Insider trading helped the markets recover in March as they are now at their all-time highs. However, there is a certain problem that now the ratio of companies in which insiders sell their shares concerning those who buy them is the largest. In simple terms, this means that there are more sellers than buyers of stocks between companies' management. So Michael A. Gayed notes that the ratio of insider buying to selling is at its lowest level since 2000, the time when the Dotcom bubble burst.
Do Insiders Believe in Continued Growth?
It turns out that the company's management does not believe that their company's shares can be worth that much. They think that this is some kind of bubble that will burst soon, so they need to quickly sell the company's shares and cash out.
It is important to note that in March the value of this insider trading was also high, but then the ratio was different: there were more sellers than buyers. But it seems in March the companies' management believed in stock prices grow, but now, apparently, this belief has gone, since the sale of insider shares within the companies has been recorded for quite a long time.
Earlier, there was information that insiders do not support the bullish trend. For example, the management of Moderna sold most of its stocks immediately after the promising results of the vaccine trial were published.