SPY Volume is the Lowest Since Christmas Eve
Eric Balchunas, a senior ETF analyst at Bloomberg Intelligence, reports SPY trading volume to be the lowest since Christmas with turnover less than $13 billion:
"NO FEAR: $SPY volume is DEAD, only $12b traded past two days, lowest reading since Christmas Eve. Even some single stocks traded more, which rarely happens. No one tweaking their portfolio, feeling content, a confluence of Fed pacification, late summer-ness and sports returning.." Eric Balchunas via Twitter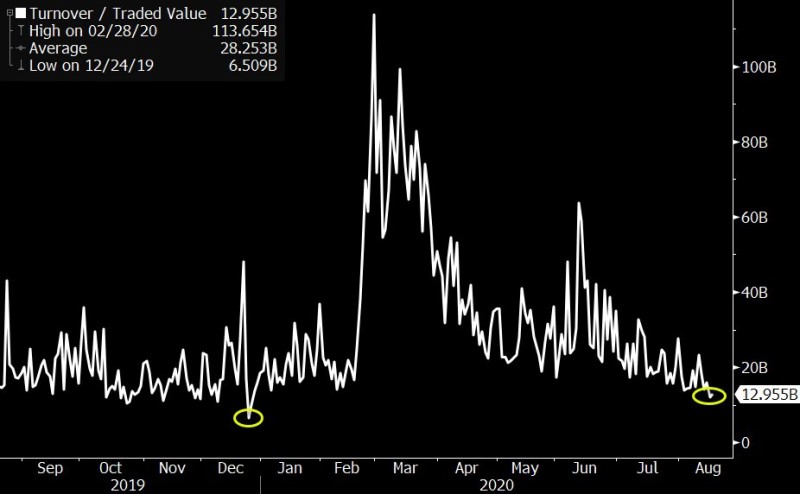 Image Source: Twitter @EricBalchunas
What is SPY?
SPY, or SPDR S&P 500 trust, is an exchange-traded fund that a direct copy of the S&P 500 index' structure. At the same time, SPY is the largest exchange-traded fund in the world. Thus, SPY is an indicator of market sentiment by which you can track the attitude of investors towards 500 largest companies on the market. A low SPY value hints that all movements in the market are very insignificant since transactions are carried out for small amounts, relative to the usual state.
VIX Index is Below Oversold for the Long Time
Moreover, Dereck Coatney reports that the VIX indicator, or as it is called the Fear Index, is now in its longest period below oversold since the beginning of 2019. 
"$VIX Weekly stochastic RSI has been at or below oversold for 15 weeks, the longest stretch since January to May of 2019..." Dereck Coatney via Twitter
The VIX index also serves to track investor sentiment, the lower the index value, the less volatility is expected in the market.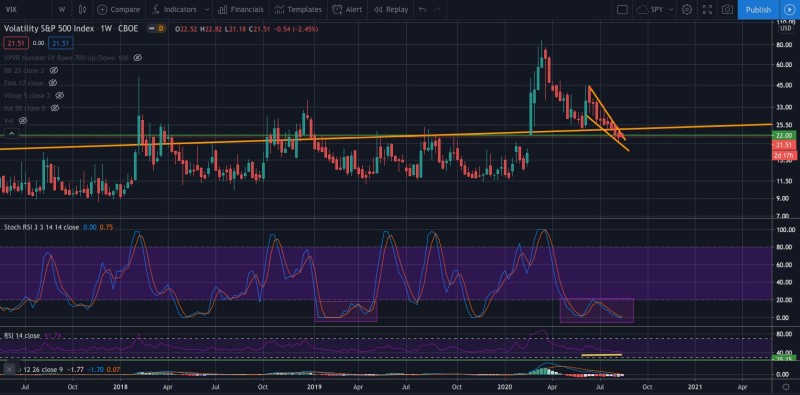 Image Source: Twitter @DereckCoatney
The continued decline in the VIX values ​​also indicates a decrease in tension in the market, which confirms the SPY movement.