Wednesday is a traditional FED day when the Federal Open Market Committee decides on the rate and further monetary policy. Kathy Jones (@KathyJones), a chief fixed income strategist at Schwab, expects the FED's head, Powell, to keep everything unchanged, but to hold a course on stimulus.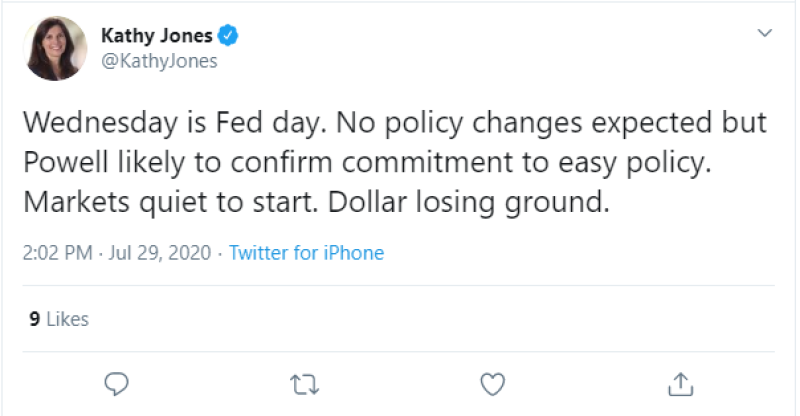 Image Source: Twitter @KathyJones
The Current Situation with DXY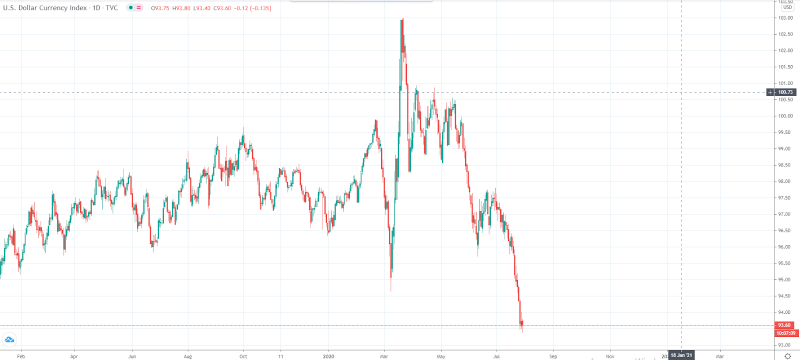 Image Source: TradingView DXY
The US Dollar index is ready to go in any direction after the meeting. DXY has already broken down yearly lows and may hit another low if markets decide to sell. No one expects that the FED's decision will currently change anything in the monetary policy. However, the reaction from the market is hard to predict these days as there are many other factors that may either support the US currency or smash it down against the floor provoking equities to boost.
FED's Decision of Rate 

Image Source: ForexFactory
The Federal Open Market Committee has taken several FED rate decisions this year to cut interest rates to almost 0 levels after a long road to hike them that the FED started in 2016. These dovish steps were taken due to the global recession and the pandemics, which was the main reason for the quarantine measures that many states were to undertake.
Many experts, including Katy Jones from Schwab, do not expect the FOMC to change its monetary policy, but FED's decision about interest rate today is important because of the comments that will likely show the commitment to the easy policy. It is to mention that Donald Trump urged the FED to cut rates earlier to support his reforms targeting economic growth in the U.S.
Today's FED Interest rate decision is very important as it may influence many sectors including Forex, Stocks, commodities, and spot metals. In the case of dovish rhetoric, the DXY may resume its downtrend, which will result in the uptrend for Gold, Bitcoin, various currencies trading against USD, and stock markets.