CNY/USD Overview
In three months, the onshore yuan has risen by almost 4 percent, the fastest since the beginning of 2008, while its offshore equivalent has risen by more than 4 percent. Traditional safe havens such as the Swiss franc and Japanese yen have overcome this development. Given the yuan's devaluation five years ago, it's a lot for investors.
During the same time span, the offshore yuan was less competitive and liquidity in this euro remains reasonably strong in comparison to many currencies. Chinese efforts to strengthen and enter their financial markets are projected to continue, improving liquids and attracting capital flows. China's efforts will continue.
This year, the COVID 19 pandemic hit global competitiveness would make China the only big economy to develop. Economists expect the country's GDP to rise by 2.1% in contrast with an expected 4.4% decline in the United States, which is slowing expectations due to differences about more stimulation, fear of viral revival and the electoral possibility.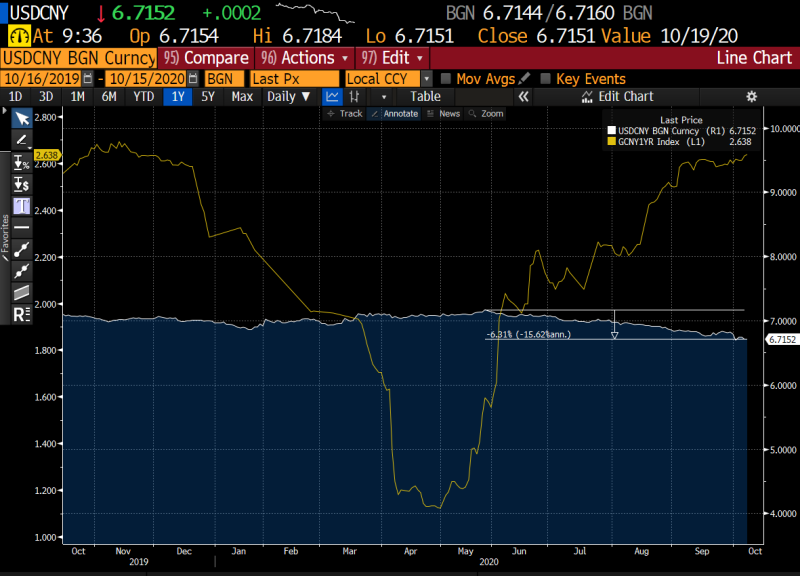 Image source: Twitter @Trinhnomics
China's CPI Results
The Chinese consumer price index, the primary inflation tracker, rose 1.7% year-on-year in the past month, down from 2.4% in August, according to the National Statistics Bureau on Thursday, the lowest in nineteen months.
As food costs started to smooth out last month, CPI growth moderated. Swine prices declined dramatically by 27.1 percentage points in contrast to a month ago to 25.5 percent year on year, when pork stock was further restored, the NBS said.
In September, the spike in prices for non-food stuffs dropped to null in the same year as a 0.1 percent increase a month ago, with travel prices declining while medical and educational prices increased.
In the meantime, the output price index of the country which measures the price of factory-gate dropped by 2.1% in September on an annual basis compared to a 2.0% decrease in August with the drop in petroleum prices increasing. However, this result is better than expected.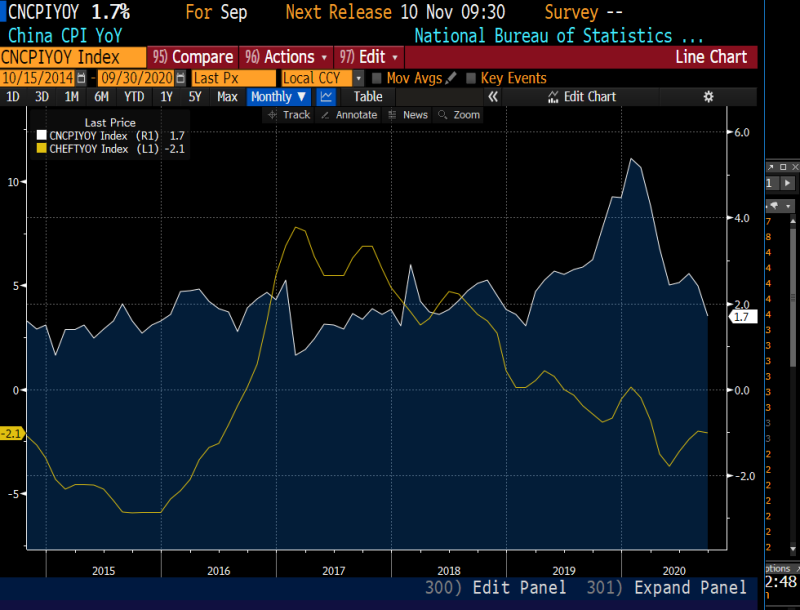 Image source: Twitter @Trinhnomics