Japanese indexes continue their growth in trading on Monday. The indices ignore the negative background of trade exports.
For the third month in a row, Japanese exports fell by more than 20%, while major markets began to reopen after restrictions were lifted.
On June 26, shipments from Japan abroad fell sharply by 26.2%, which was caused by a sharp decline in car exports, the Ministry of Finance reported on Monday. Economists expect a 24.7% decline.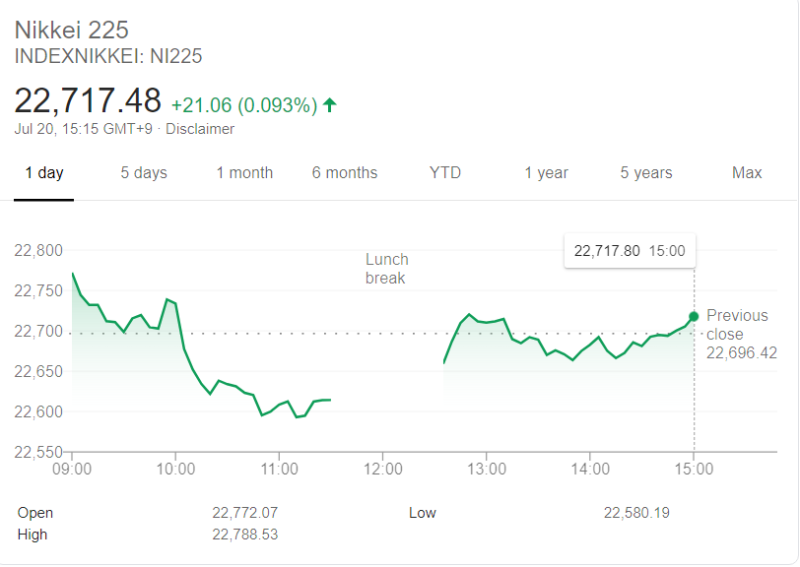 Image source: Google Finance
While exports remained well below last year's estimates, there may have been signs of a decline. Car deliveries halved in June, compared to a drop of almost two-thirds in May. In total, exports to the US and EU have fallen by about 4-5% in less than a month.
Economists believe that the economy passed the worst. But the recovery may be delayed because the spread of infection slows down companies' return to work. No one is talking about pre-crisis indicators yet.
Governor of the Bank of Japan, Haruhiko Kuroda, said that he expected the Japanese economy to slowly grow in the second half of the year, but the risks diminish it.
Nevertheless, exports of technology services are gaining momentum in other countries in the world. The head of asset management points out the correlation between Singapore's export of electronics and the worldwide return of businesses.