Jeroen Blokland, the head of Robeco Asset Management, notes significant growth in the exports of electronics from Singapore.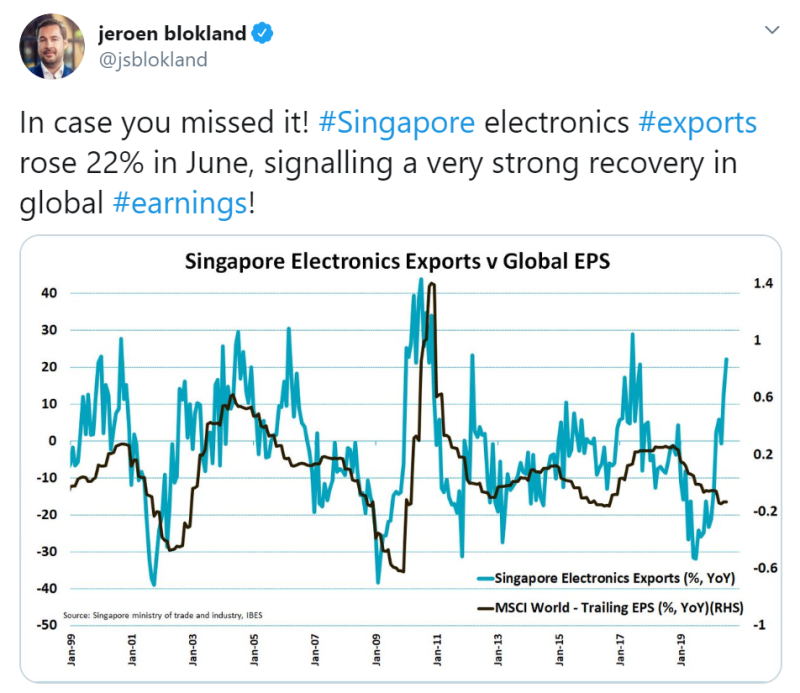 Image Source: Twitter @jsblokland
According to Blokland, the growth of exports of electronics in June was a staggering 22%. At the same time, there is a noticeable correlation between the production of electronics in Singapore and the business activity of companies. The analyst suggests that the rapid growth in the export of electronics is an indicator of the growth in the activity of companies around the world, and, consequently, the growth of their profits.
Singapore is one of the centers of digital electronics manufacturing. Boards for smartphones, parts of batteries, video cards, and memory cards, among other things, are created there, as well as boards and elements used in the creation of artificial intelligence and autonomous vehicles. In 2019, electronics ranked first in the list of goods exported from Singapore and brought the country about $180 billion (approximately, 45% of total exports).
Given the significant role of Singapore in the global electronics market and annual export volumes, such significant increase in exports now can indicate a rapid recovery of the world economy, as factories around the world are beginning to return to their pre-coronavirus production level. More than 30% of electronics exports go to fellow Asian countries (China, Hong Kong, Japan, and Malaysia), and another 9% go to the US.