According to Waves Tech (@wavesprotocol), Tron and Waves have entered a partnership to cooperate in the field of DeFi development.
To achieve deeper interconnection, TRON and Waves will collaborate on the following cooperation and integration schemes:
$ TRX, $ BTT, $ JST and other TRC-20 tokens such as $ TRON-USDT will be available on the Waves blockchain through decentralized gateways (Gravity swap) and automatically listed on DEX Waves (e.g. waves.exchange), which means that traders and developers from the Waves ecosystem will be able to trade, store and use TRC-20 tokens.
Similarly, $ WAVES, $ USDN, $ NSBT, $ WEST and other Waves ecosystem tokens will be available on the TRON blockchain via Gravity.
Can TRX Keep up the Ongoing Growth after this News?
The rate of TRX has slightly gone up after this news. Mainly, the growth has constituted 17% over the last 24 hours.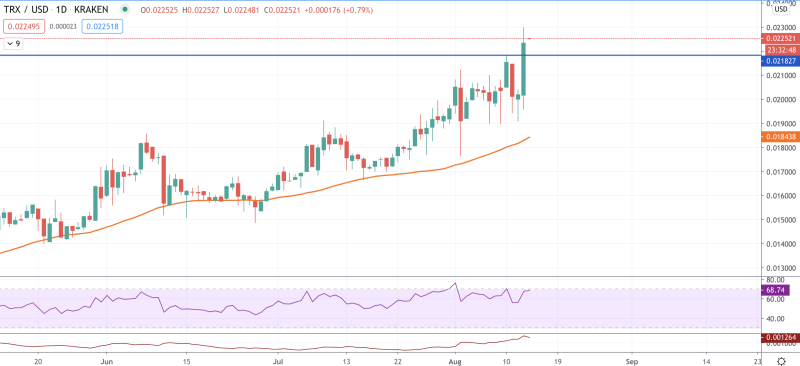 Image Source: TradingView TRX
From the technical point of view, TRX has got out of the consolidation phase, having confirmed the bullish trend. Even though the rise may continue, the coin is already located at the verge of the overbought area based on the value of the RSI indicator. In this case, the more likely scenario is a slight correction to the support at $0.02182 by the end of the month.
TRX is trading at $0.00225 at the press time.