According to Assad Tannous (@AsennaWealth), the price of the first cryptocurrency ever targets $100,000. The same expert has recently stated that if BTC/USD will stay in a tight range, Bitcoin is likely to be accepted as a currency by a wider range of stores.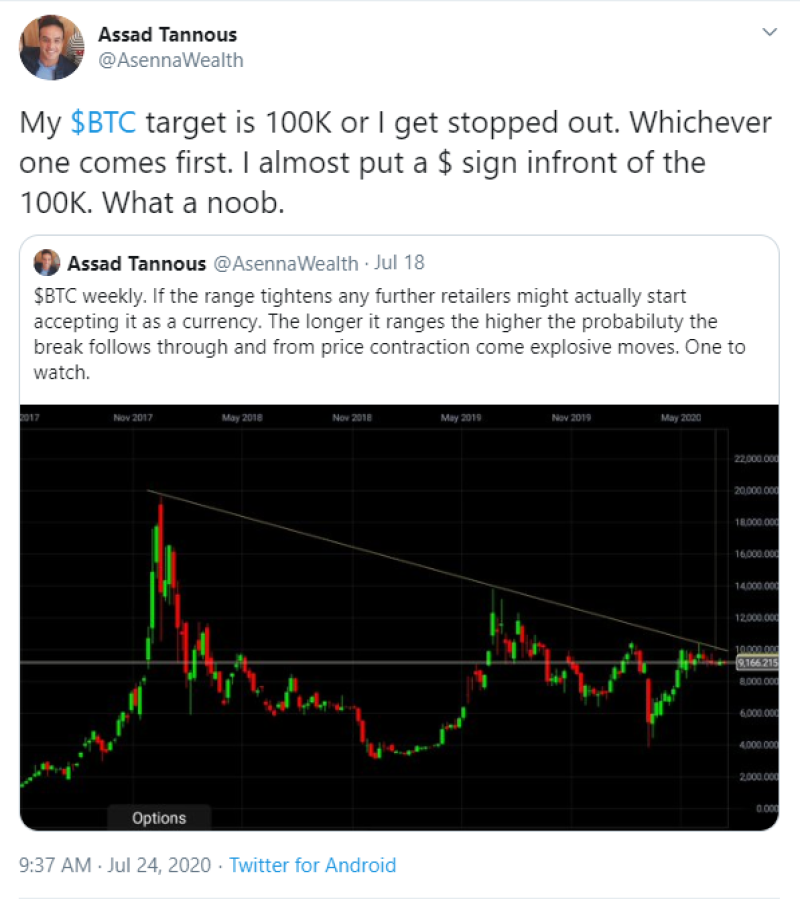 Image Source: Twitter @AsennaWealth
Bitcoin's Current Situation
According to many specialists, BTC has recently had a halving which should lead to the increase of its price. However, BTC/USD still stays below $10,000 which has already become a psychological level. 
Bitcoin is still considered to be a very prospective asset by many investors despite criticism from those who are very pessimistic about this digital currency. BTC/USD's volatility has significantly decreased recently confirming the words of Assad Tannous about the probability of BTC's mass adoption.
Bitcoin's Background
The first cryptocurrency was created by Satoshi Nakamoto in 2009. At first, it was adopted by the first experts, but later wider masses started to use it. 
Bitcoin has a very strong community and team of developers. The underlying Blockchain was used to create many forks including Litecoin. Bitcoin is criticized for its slow speed of transactions and low scalability capabilities. That is why many developers are currently looking for dome solutions to make their own Blockchains faster and scalable. Nevertheless, Bitcoin is considered to be digital gold having great levels of trust from the  members of cryptocurrency community.
BTC/USD has hit its all-time high at the end of 2017 when the price has met a $20,000 resistance area. The price of the first cryptocurrency had a serious downtrend later and never reached this height again. Many experts, including Assad Tannouns, predict BTC/USD to reach even higher levels.