The price of Bitcoin has been slowly rising over the past 24 hours, rising to its highest in about two weeks before a significant plunge. The upward market trend of cryptocurrencies halted, however, and the digital asset exchanged in a relatively narrow range.
According to the analytical website Glassnode, Bitcoin holders are still inclined to keep their coins. Even though there have been both ups and downs on the market, the volatility has not deterred investors and they expect a "better price".
Coin Days Destroyed (CDD) is an indicator for movements of large & old stashes of $BTC. Currently, it is showing no signs of long-term investors cashing out. In fact, CDD is less than half compared to last year when #Bitcoin was at the same price level. Glassnode @glassnode via Twitter
What is Coin Days Destroyed (CDD)?
Coin Days Destroyed (CDD) is a measure of economic activity which gives more weight to the coins which haven't been spent for a long time. It is considered an important alternative to looking at total transaction volumes, which may not accurately represent economic activity.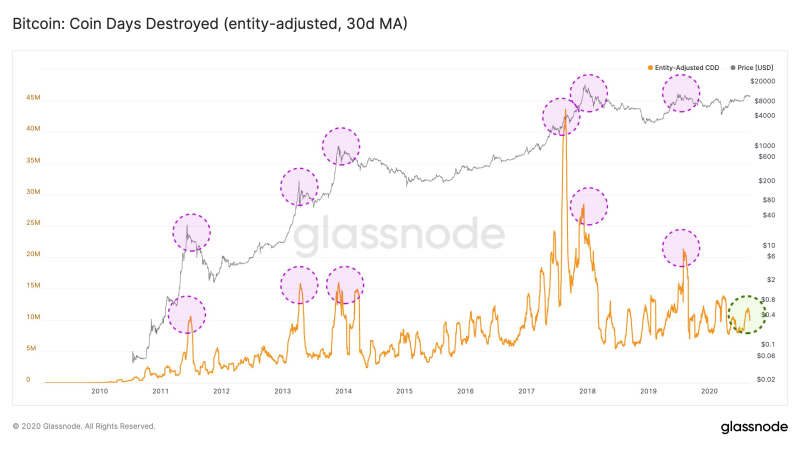 Image source: Twitter @glassnode
Coin (Bitcoin) days destroyed for any given transaction is calculated by taking the number of Bitcoins per transaction and multiplying it by the number of days it has been since those coins were last spent.
How is Bitcoin Trading Now?
Currently, the largest cryptocurrency is trading at almost $11,390, which is a drop of about 4% per day. Prices fell just below $ 400, but gradually recovered after a while. The sales coincided with the announcement that South Korean authorities had confiscated Bithumb, one of the largest trading cryptocurrency exchanges in the world.
The current support is $ 11,170; a violation of the four-hour chart will indicate a failure of the "Head and shoulders" figure, which signals a reversal of the trend. This is not to be missed, as the US dollar is still showing the signs of life.
Recently, Bitcoin has had a fairly negative correlation with the US dollar. The dollar index, which tracks the value of the US dollar against other major currencies, is now on the market around 92.50, with a low of 91.75 on Tuesday.