What Is Bitcoin's Cycle?
After its introduction in 2009, Bitcoin ( BTC) has had four price peaks from bottom to new high. These periods ranged from 600 days to nearly 1050 days. In the last cycle, 300 days have been met, indicating that it could last for 3-12 months.
If Bitcoin's evaluation stays constant for a few months, or even a year, so two things can be done. Next, the basic foundation of the next explosive rally from 2016 to 2017 can be improved. Second, as some analysts expect, it may contribute to other cryptocurrencies or altcoins hitting new levels.
However, some experts believe that these cycles began to stretch (lengthen) and take longer. A cryptocurrency trader, Justin Bennett, calculated cycles for the price of Bitcoin. According to his calculations, the price may not reach a new peak by 2021.
(1/3) Unpopular opinion...#Bitcoin may not reach $20k until Q2 2021.Everyone expects $BTC to rocket toward $20k any day now, but the lengthening cycles say otherwise.Even if #BTC does it in 162 weeks like the previous cycle, it won't reach $20k until Jan. 2021. Justin Bennett @JustinBennettFX via Twitter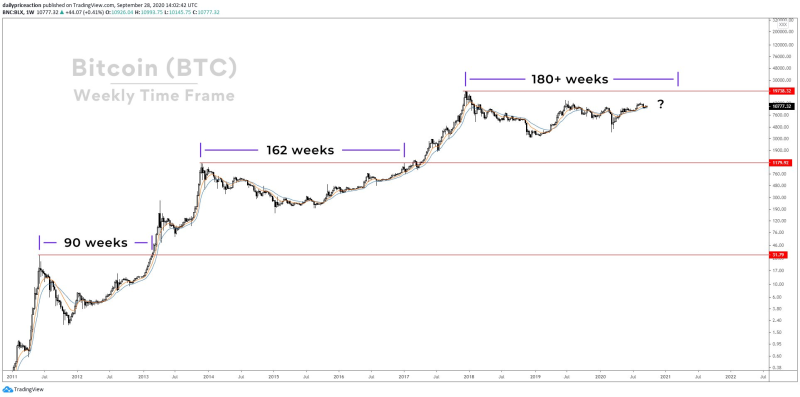 Image source: Twitter @JustinBennettFX
The Bitcoin's Rally Is Not For Everyone
However, the Bitcoin's rally is not profitable for everyone, especially for those who hedge risks using margin positions. Bitcoin's steep vertical rally can improve the chances for whales — or big Bitcoin owners — to benefit. In this situation, due to over-released liquidations, the future market may result in a dramatic pullback.
An example was the halving of the Bitcoin block incentives over the last two years. In July of 2016 the second half of the history of Bitcoin took place. In December 2017, the BTC Bull Cycle began 17 months later.