Cryptocurrency Analytics portal CryptoCompare published a may report on volumes on cryptocurrency exchanges. The growth in May was 32% per cent, which was formed due to the growth in the volume of transactions with crypto derivatives.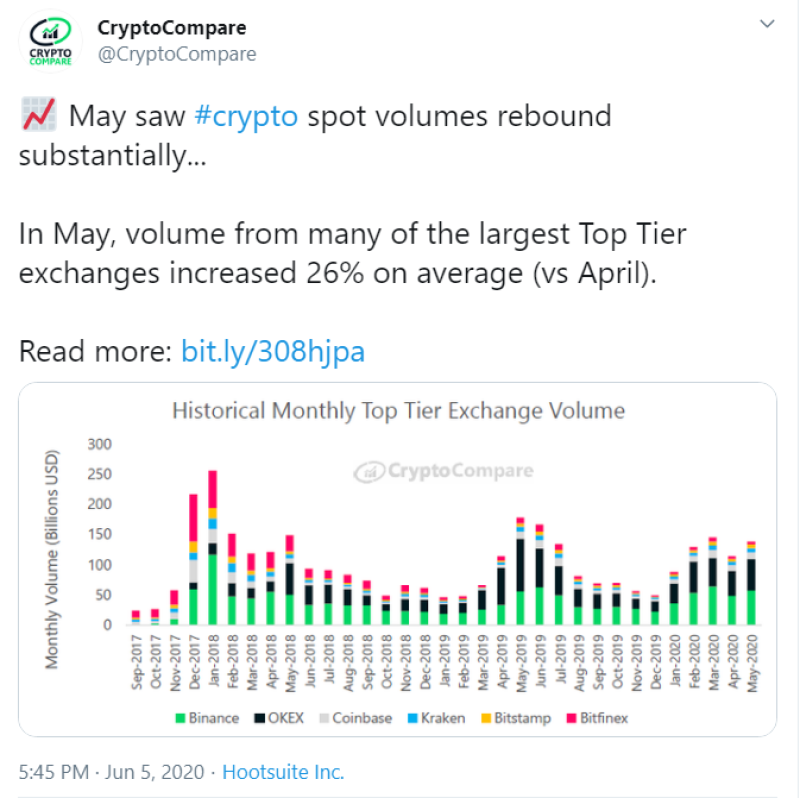 Image source: Twitter @CryptoCompare
The reason for this growth is crypto options. On the CME exchange, 5986 contracts were signed for the entire month, which is an all-time high. A month ago, this figure was 16 times less. The volume of contracts for futures transactions also increased, their growth was 36%. Derivatives for options with Bitcoin increased by 59% and the total volume was $7.2 billion, which is an absolute record compared to other exchanges.
Who is on the leaderboards?
Binance is the leader in trading volume in May, trading at $57.2 billion (an increase of 18.2%). Second place went to OKEx at $52.1 billion (an increase of 25.7%) and third place went to Coinbase at $11.2 billion (an increase of 22.4%).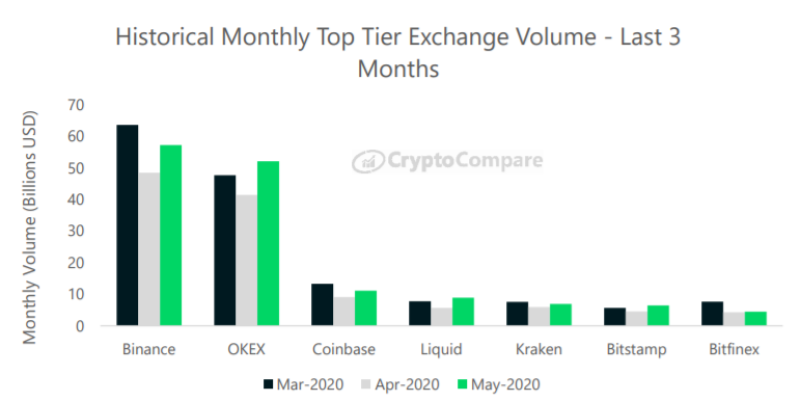 Image source: CryptoCompare report
Earlier this week, several events occurred that affected the development of the derivatives market. First, the Binance cryptocurrency exchange has added support for trading options on ETH and XRP. A few days later, the OKEx exchange also announced the addition of options for ETH/USD.
The market is expanding
And these are not the first steps in increasing the volume and popularity of exchange-traded instruments. Earlier, OTC trading operator Genesis announced the acquisition of Vo1t custody solution to open a digital asset broker.
The wide players are constantly setting up the blockchain sandbox and businesses find their way into it. It takes time for complex developments and increasing the mass adoption of cryptocurrencies, but the demand is obvious.