Bitcoin (BTC) reach the new low on Sept. 7 as the largest cryptocurrency was replaced by renewed sales pressure at $9,800. At the same time, analysts are starting to build new charts trying to figure out the situation.
A cryptocurrency trader, the Wolf of All Streets, conducted its own analysis of the BTC/USD trading pair. He believes that the pair has almost hit the bottom. At the same time, some time frames state that the indicators are in the overbought zone.
$BTC 12 HourThis is what I am watching for, with 10 hours left until candle close. We have already had 4 and 6 hour bull divs. The 12 hour is still oversold with a potential div. If we close the day with a clear elbow up on price and RSI, I will view this as a likely bottom.   The Wolf Of All Streets @scottmelker via Twitter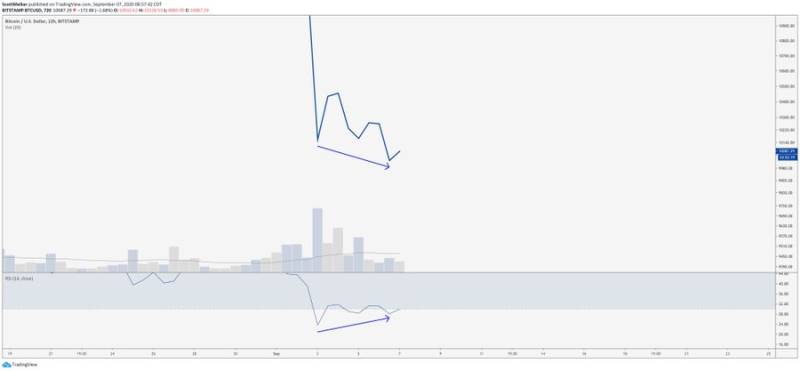 Image source: Twitter @scottmelker
He believes that the market has no reason to panic, even though he makes statements about further falls making investors homeless.
$BTC could dump to Hades and we could all be homeless. Also, it could be in a descending channel with a potential inverse head and shoulders forming (nothing confirmed here) and just messing around on low volume. I still don't see a reason for panic at the moment.   The Wolf Of All Streets @scottmelker via Twitter
Talking about the current market, Michaël van de Poppe said that the outlook was based on two gaps in the future Bitcoin markets for CME Group. 
#BITCOINCouldn't really hold the $10,000 level (or it's dipping beneath). The second scenario would be a closing of the CME gap, after which closing of the upper CME gap is next. $9,600-9,800 could be bottom level for now. Crypto Michaël @CryptoMichNL via Twitter
Both gaps are $9,700 and $10,600 — Van de Poppe identified two possible market action scenarios and asked which gap Bitcoin would fill the first. At the time of writing, Bitcoin was trading at $9,950.