The price of Bitcoin has tripled since the March drop, breaking the $12,000 mark. However, the movement from 4,000 to 11,800 is considered insufficient by some. For example, the head of the cryptocurrency exchange, Binance, Changping Zhao (CZ) agrees with that opinion.
CZ stated that because of this 'small' growth, Bitcoin can be considered to be a stablecoin. He said that he quickly got used to this growth, so the price changes do not surprise him.
I don't know about you, but #bitcoin feels like a stable coin to me. It's moving up so slowly. It only moved from $4100 in March to $11800 now.Every time it moved up, I get used to the new price in like 30 seconds, and starts to wish it will go higher... Changping Zhao @cz_binance via Twitter
However, in the period from April to June, Bitcoin really behaved like a stablecoin and traded in a narrow range. Some analysts expect a big move that will take place at the end of August.
After a few months of Bitcoin experiencing remarkable stability, volatility has returned. It stopped behaving like a stable currency when its value fell and rose by more than $ 1,000 in a matter of minutes in early August.
Throughout the last few weeks, it reached the new highs of more than $12,000 in early August and then dropped again by almost $1,500. Traders are used to patiently waiting  – studying the specifics of shifts in rates every day, every hour, and every minute in order to bring in a gamble that pays off.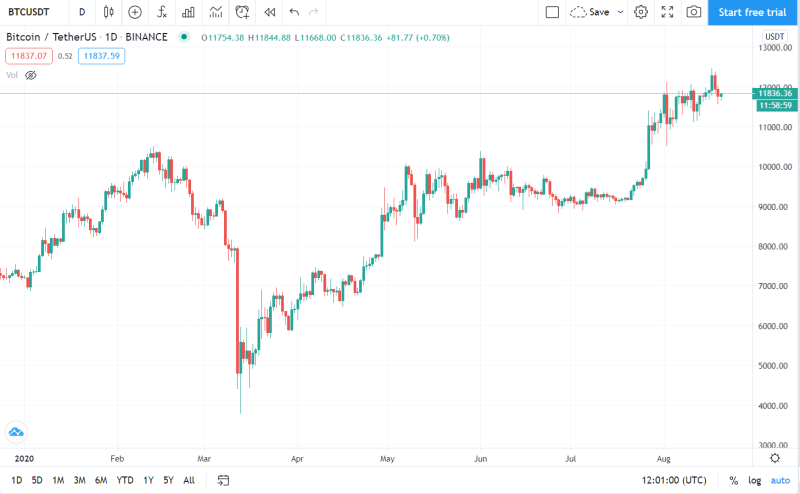 Image source: TradingView BTCUSDT
For most traders, the price decrease, whether trading in equities, forex or futures contracts, is generally inevitable. It occurs when an order is made but the exit price is different – just a matter of a second between buying and delivering.