To be competitive after the COVID-19, retailers need to evaluate income control activities, market structures, digital capability, capital investments and M&A approaches, and then take a bold decision to transform.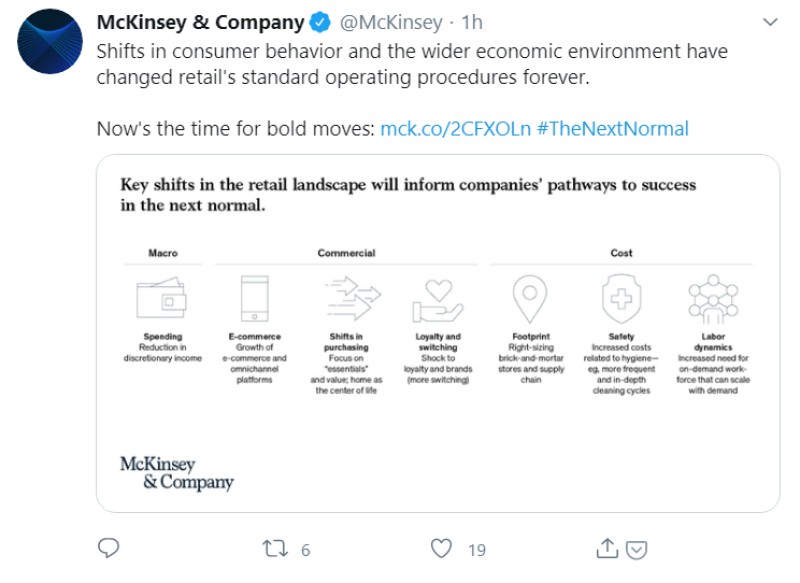 Image source: Twitter @McKinsey
It is the main concern facing US retailers after the COVID-19 pandemic. This is clear that the normal supermarket operating practices have improved and will continue to improve after months of quarantine and staggered rehabilitation as the health and economic consequences of the novel coronavirus progressed.
How Should Business Operate in a Changing Environment?
Retailers need to move now to keep up with current business trends. Retailers need to start. Some of them will have to rethink their business plans and business models by answering the following questions: What kinds of goods and services do consumers need? What would influence your buying decisions? So, which new customer habits will stick for long?
In order to continue this phase of transition, retailers need to assess their capabilities thoroughly in five sectors, which are critical to success in any retail business: sales management, operating models, technology, capital investments, M&A and alliances. This practice helps retailers to recognize their weaknesses and criteria and to make a bold attempt to improve their business in the future.
What Areas of Consumer Demand Have Changed?
The pandemic has now altered consumer purchasing habits and behaviour. Consumers, for example, are at home more than ever, despite high rates of unemployment and extensive quarantine. We buy less, pay less when shopping and concentrate more on safety issues and items.
Over the last six months, the climate for retailers has also shifted major macroeconomic, market and expense shifts. Those who work in marginal areas predict a sluggish recovery over the next 18 months. We expect the virus to return by the end of 2020 or early 2021 that could slow down long-term development and global recovery.
More than a month ago, we reported that Mckinsey had already reported that the business would have to face new realities. Worldwide businesses struggle to learn how to deliver their services safely. Such efforts often suggest a return to a familiar version of the past.