According to The Motley Fool, a decent proportion of the population worldwide has been taken aback by the pandemic, when workplaces were shut down to control the spread of COVID-19. Surveys illustrate that 88% of companies have adopted remote work models and 31% of them say that COVID-19 has triggered this change.
No wonder, after the pandemic, there is a growing need for technical solutions. Zoom Video Communications (ZM) and Twilio (TWLO) are two businesses, which took full advantage of remote work and are supplying customers with big returns.
Zoom (ZM) is Not Stopping
Zoom Video Communications revenues rose by 169% in the first quarter of 2020 in correlation with 78% annual growth in the fourth quarter. In the second quarter of the 2021 fiscal year, the organization is predicted to experience more growth. The business management expects 241% growth in annual sales, which is between $495 and $500 million.
The company plans to raise net earnings by 462%, profits by $0.45 per stock, and sales by 189% in this quarter, to $1.8 billion in 2021. For starters, the Indian government will have loosen domestic labour laws for IT firms by the end of the year. Reports suggest that since March of this year 90% of India's workers, who account for 4.3 million people, have worked remotely.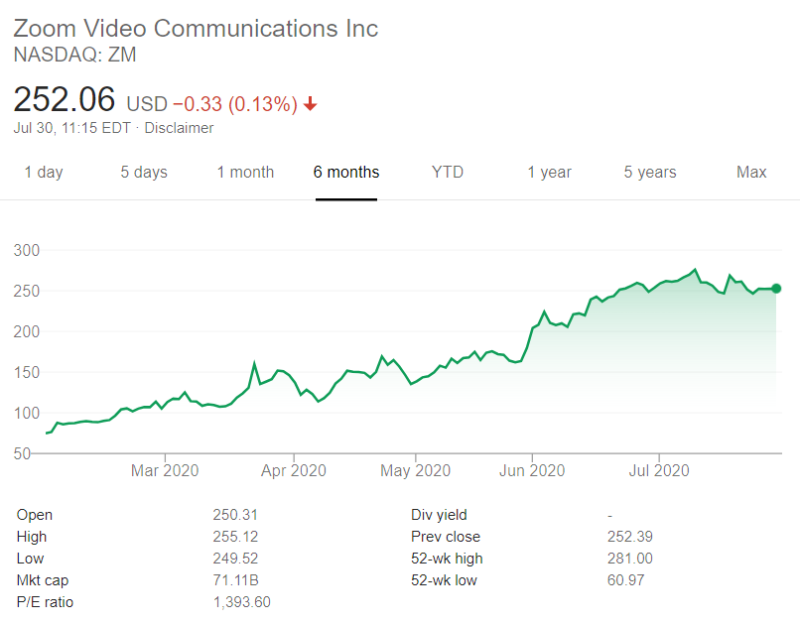 Image source: Google Finance ZM
Twilio (TWLO) was Boosted by Lockdown
Due to development in medical care, healthcare and other sectors, the downturn in industries such as retail, travel and ridesharing has had no major negative effects on Twilio. It also states that the sectors adversely affected by the latest coronavirus pandemic have received less than 10% of overall revenues.
Twilio is among the businesses, which saw a substantial increase in sales following the pandemic. This is evident from the net profit increase of 143% in Twilio compared with 142% of that last year. That figure will increase as Twilio's consumers purchase goods and extra items or get any new products.
The demand for cloud contact centres is expected to increase by 25% by 2022 with a combined annual growth rate of almost $21 billion from third parties. Twilio, therefore, has ample scope for growth as last year's revenue was $1.13 trillion.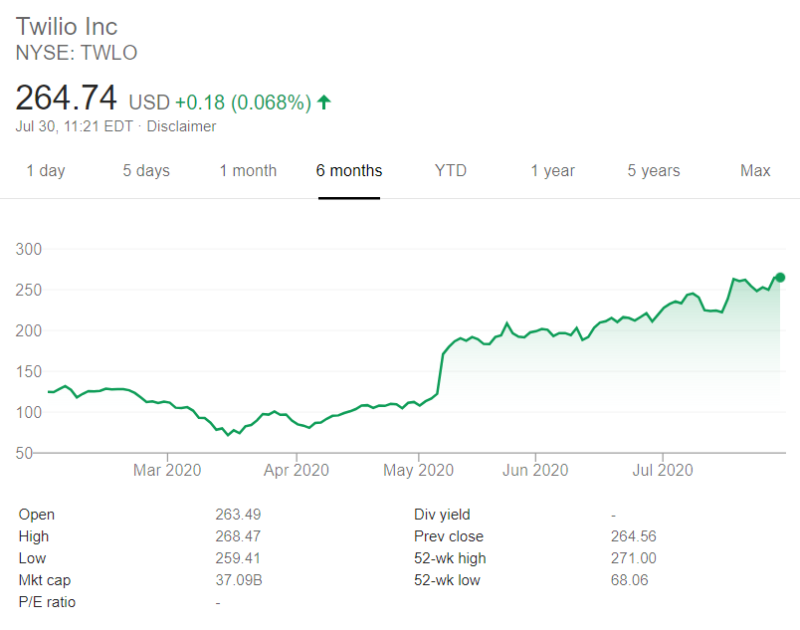 Image source: Google Finance TWLO