VIAC's Quartely Report Shows Promising Results
U.S. multinational media conglomerate, ViacomCBS, reported higher-than-expected profits and sales for the second quarter, despite the coronavirus pandemic negatively affecting ad revenues.
ViacomCBS disclosed net income for the quarter to be $478 million, or 77 cents per share, down from $971 million, or $1.57 per share, a year before.
Adjusted earnings per share were $1.25, higher than the analysts' consensus of 95 cents. Revenue fell by 12% to $6.275 billion from $7.143 billion, also beating the consensus of $ 6.181 billion.
VIAC Overcomes Difficulties
The CEO of ViacomCBS, stated that despite the impact of COVID-19 on revenue for the quarter, the company is successfully managing the impact of the pandemic. Affiliate program revenues grew by 2%. However, due to the reduction of global demand, advertising revenues fell by 27%. Domestic streaming revenue grew by 25% to $489 million. Content licensing revenues have been flat and movie theater revenues have been modest as movie theaters were closed during the pandemic.
The company informed being on track with the rebranding and relaunch of CBS All Access in early 2021. Shares are down by 38% YTD (since the beginning of the year), hugely underperforming S&P 500 index results.
VIAC stock price is growing.
The market reacted positively to the reporting. The company's stocks rose by more than 3.5% after the release of the report.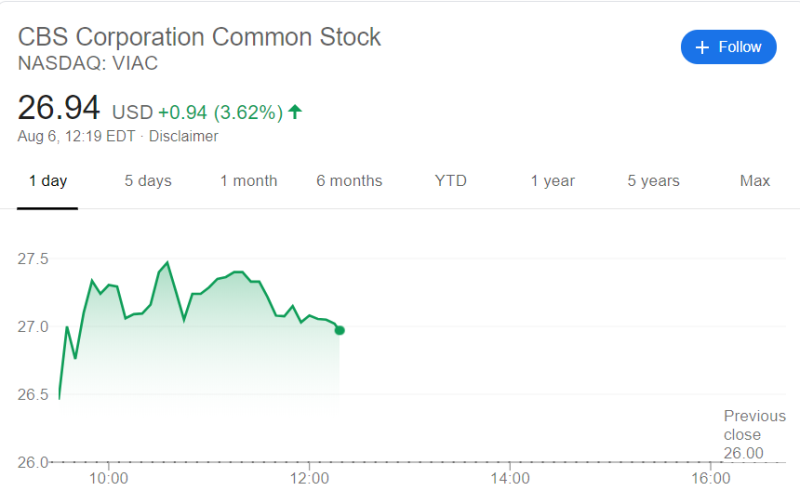 Image Source: Google Finance VIAC