Disney's Third Quarter Report Will be Released Today
Last week, many large companies published their third quarter reports. Report season continues this week with Disney, which will be published today at the end of the trading session.
The Walt Disney Company is one of the largest media conglomerates of the entertainment industry in the world.
Closing the Disneyland and Success of Disney+
Disney's report is one of the most anticipated among investors this week. Disney saw no profit in its fiscal quarter following the closing of the company's theme parks and disruptions to movie and release production, which outweighed the surge in streaming subscribers to Disney + and ESPN +. Disney+'s subscriber base grew to 54.5 million subscribers at the beginning of May, reaching that amount within six months of launch.
In the middle of this fiscal quarter, Disney re-opened theme parks in Shanghai and Hong Kong with some precautionary measures in place. In July, a theme park in Hong Kong was temporarily closed again due to a sharp increase in the number of coronavirus cases in the region. The company also re-opened its Florida Disney World and Paris Disneyland offices with redesigned facilities.
Financial Forecasts for Disney Stocks.
In terms of financial statements, analysts believe the company will lose 43 cents per share against EPS of $1.35 a year ago. Revenues are likely to fall by 38% to $12.65 billion. All this is due to the pandemics and the downtime of theme parks.
Disney shares are trading more than 20% from a 52-week high. The stock is trading below its 50-day and 200-day moving averages. Over the past month, the company's shares have shown no significant jumps up or down. At the moment the price is $116. At yesterday's aftermarket, it fell by 0.5%. Given the idle Disneylands and the current price above average, it can be suggested that Disney shares will fall as a result of trading.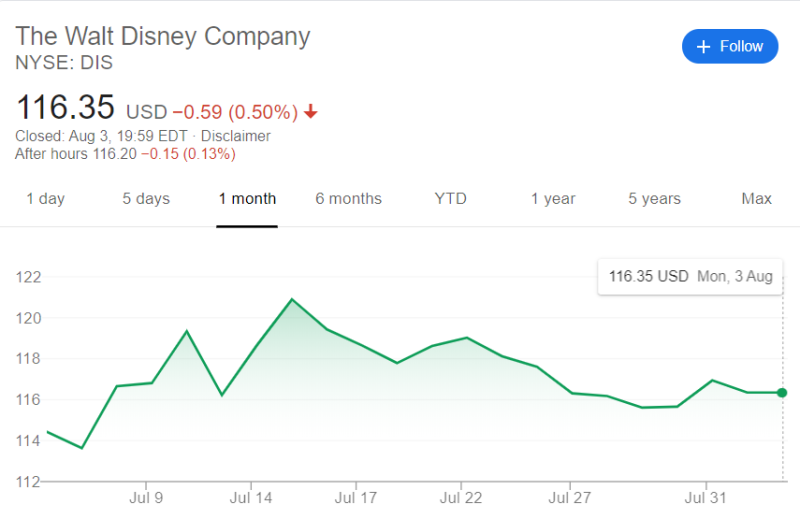 Image Source: Google Finance DIS