The Sharp Rise in Income
In early trading on Wednesday morning, Snap Inc.'s stock price jumped by more than 34 percent, one day after Snapchat announced having 11 million new users during the third quarter and a 52 percent rise in sales.
Snap's stock was $37.10 per share for around an hour of trade on Wednesday. Snap will comfortably raise its all-time high closing price, set on Monday, by $28.66, if these earnings last the remainder of the day.
Snap posted Q3 revenues of $679 million on Tuesday, averaging $556 million for analysts. The 11 million new users a day represented a 19 percent rise since the previous year and took Snapchat to a total of 249 million users.
More people have submitted more Snaps, with this year's pictures and messages 25% higher than last year.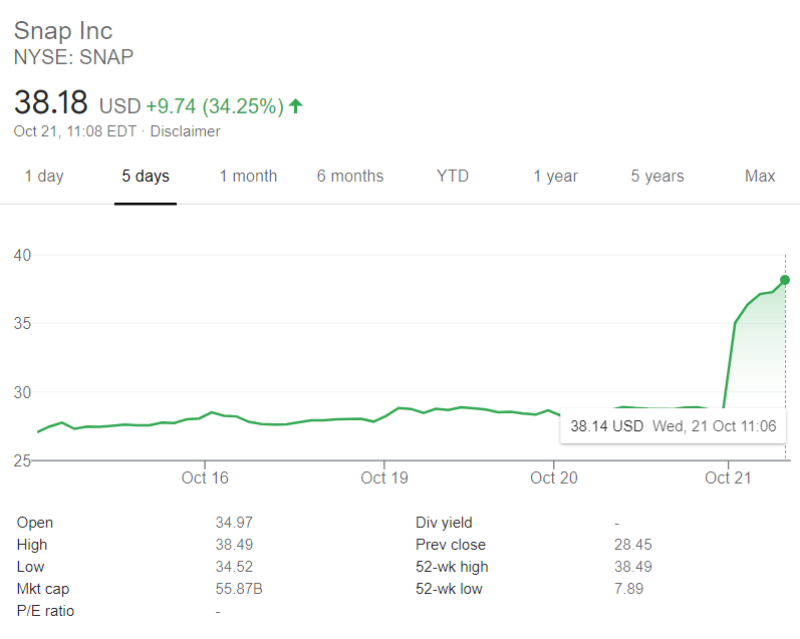 Image source: Google Finance
What Is the Secret Of Success?
The organization has credited its ad network to improve, which creates higher sales. But as far as the development of the consumer was concerned, which stressed that the ad income, Lens Studio's success was clearly exposed, which helps the developers to create augmented that consumers use in Snaps.
Other reasons include a rise of 50 percent among Snapchatters in India looking at Discover media and success of Discover material like an ethnic display with Jaden Smith and a doctrinal documentary about Conor McGregor Stellar Quarter.
But Snapchat chose not to issue any projections for the fourth quarter, amid its blowout. This year, though, several businesses are popular because of the economic instability surrounding the COVID-19 pandemic.
Keep in mind that many customers this morning cannot be possibly worried about the company's Q4 anyway because they see the 20 percent rise in the valuation of Snap's stock. However, some experts expect revenue to grow even more in the fourth quarter.
  Snap is suggesting a potentially huge Q4, revenue possibly up 50% versus consensus of 30% // $SNAP // Snap Q3 results trounce expectations, users reach 249 million, stock soars 18%   Tiernan Ray @TiernanRayTech