Nio Stocks Price Drops
Stocks of the Chinese company Nio during the trading day on Friday fell more than 15% from the opening price. However, given that the opening price was significantly higher than the price that settled on Thursday evening, the total value of the shares fell by about 10% relative to the closing price on Thursday.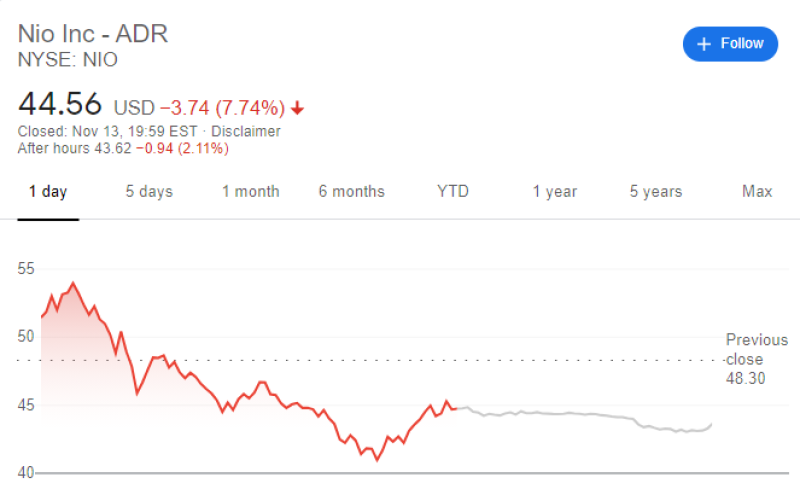 Image Source: Google Finance NIO
The main reason for this was the report published by Citron Research. The report states that
"Anyone buying NIO stock now is not buying a company or its prospects, rather you are buying 3 letters that move on a screen". Citron's analytical research
The company's analysts set a target price for Nio's shares at $25. This is almost 50% of the price established in the market by the beginning of trading on Friday.
Record Volume of Nio Stocks 
Despite the significant drop at the end of the day, it is worth noting the strong growth within the day, which made the correction not so catastrophic. Apparently, the Citron report failed to convince investors that Nio's shares were overbought and would face a collapse.
They responded to Citron's announcement with incredible growth in the volume of traded shares. According to Marketwatch, Nio's stock surpassed 2 billion shares traded volume for the first time on Friday, setting a new all-time high. This allowed the stock to rally 9% intraday, which helped offset some of the decline.

Image Source: marketwatch.com NIO
Nathan Michaud, the stock market analyst, also highlights the incredible growth in Nio's trading volumes. According to him, only on Friday, the trading volume in dollars amounted to almost half of Nio's market capitalization.
$NIO Fun Fact $60 Billion Market Cap $25 Billion Traded Today. Alone. Down pointing backhand index Nathan Michaud via Twitter

Image Source: Twitter @InvestorsLive
Notably, earlier in the fall, another company, Hindenburg Research, which also specializes in stock shortening, published an analytical report on another electric car company, Nikola. This report led to a precipitous drop in share prices, as well as the resignation of the founder and executive chairman of Nikola, Trevor Milton.
Reputation of Citron
However, the reputation of Citron does not give traders any reason to start an all-out sale of Nio's shares. According to investors, Citron is already known for its not very accurate predictions in the past.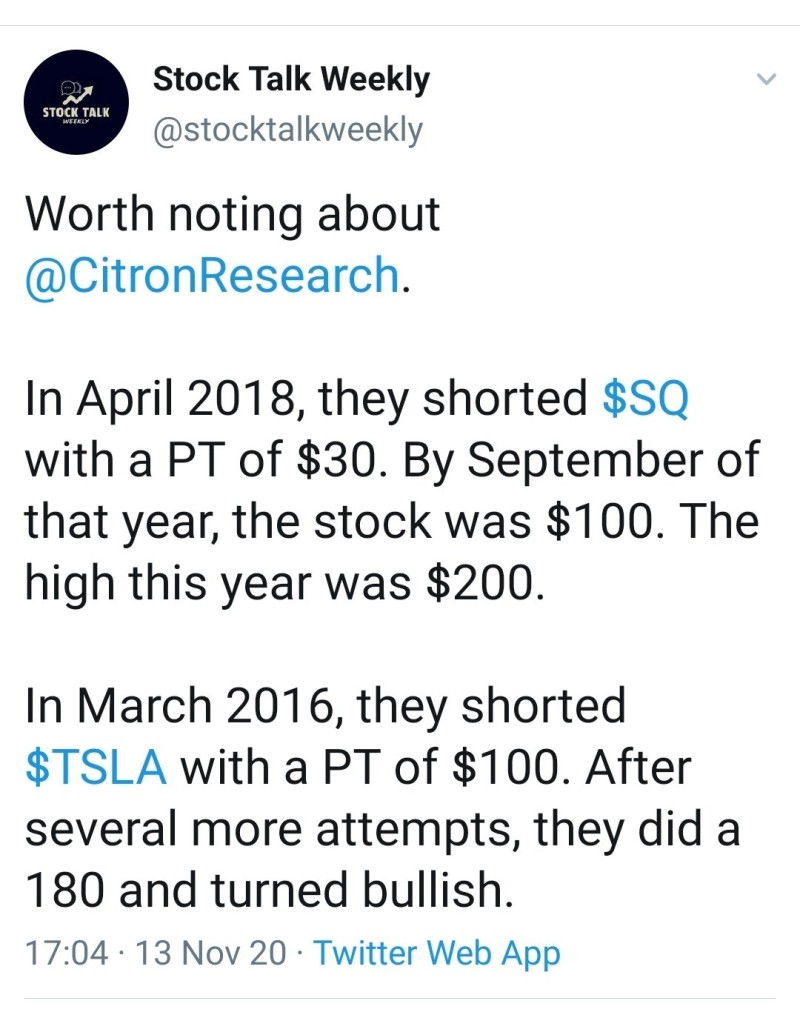 Image Source: Twitter @stocktalkweekly
In addition, in 2016, Citron already received a five-year ban on the Hong Kong Exchange for manipulating stock prices. Then the company was ordered to pay about $ 200,000 from the profits made by shorting the manipulated stocks.