Nikola, an electric truckmaker from the USA, said that it had reached out to the Korean car supplier in a media story to partner on hydrogen production with Hyundai Motor.
Even so, the company's share price went down sharply despite this statement, dropping to $42.45. This drop covered the growth of last week, which occurred against the background of a large order for the production of garbage electric trucks.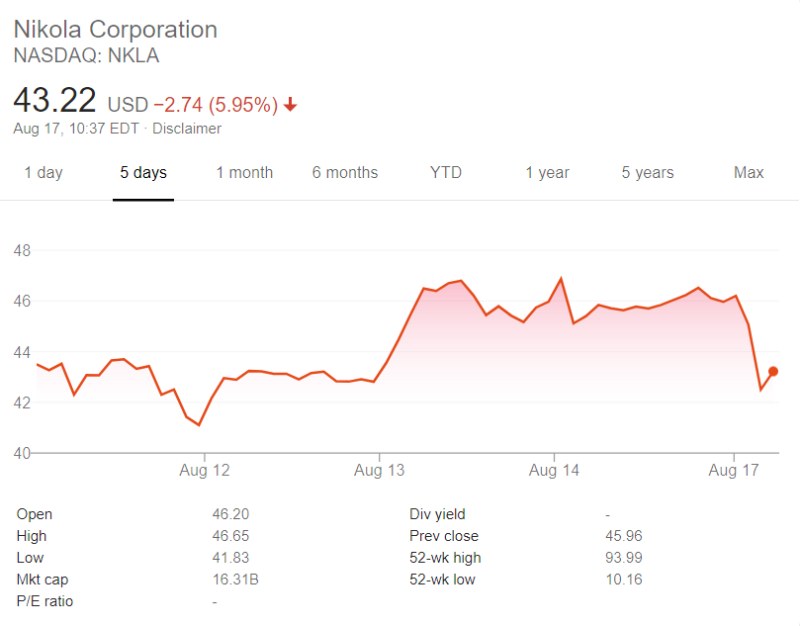 Image source: Google Finance NKLA
For the waste collection program of Giant Republic Services, the hybrid vehicle supplier and fuel company signed a contract for 2,500 hybrids, zero-emission waste vehicles. The sale price has not been announced. It will extend to up to 5,000 lorries.
Trevor Milton, Nikola Corp's founder member, said he wanted to work with Hyundai in an interview with South Korean newspaper Chosun Ilbo released on Sunday. He told Hyundai that he had made twice rejected propositions.
Trevor believes that Hyundai is the market leader in hydrogen production and is always open to cooperation. However, Hyundai reported that no offers were received from Nikola. They will be ready to consider any proposals if they are received, a company's source said.
Hyundai said that Nikola would produce some measurable results with fuel cell cars or infrastructure. Nikola said in 2021, followed by fuel cell electrics in 2023, it intended to start producing his hybrid battery-powered cars.