Global travel and trade have been substantially slowed down from the beginning of the year. As a consequence, the airline industry took a strong hit. Now even large carriers show signs of bleeding.
Revenues decline, costs remain
Starting from February 2020, countries around the world began slowly closing their borders to prevent the spread of global disease. Initially, the most popular destinations remained available, but eventually international air travel almost completely came to a halt.
While the demand for cargo flights is growing, there are obstacles to overcome. As a result, airline companies start to convert their passenger fleet to cargo by removing seats.
The fact that providers' operations are now largely on pause, does not relieve them from payments. For instance, they have to pay for each airplane being parked at each airport. This leads to smaller airports being packed as airlines strive to cut costs.
Even the big players need a rescue
The overall pressure on the industry translates to some of the largest players. Among them is Lufthansa, one of Europe's largest carriers. Apparently, the company was on the brink of collapse, as the German government agreed to provide €9 billion EUR to save it.
Before securing a deal with the German government, Lufthansa was already actively cutting its costs. It closed 'Germanwings', its budget airline. Still, the contracting business did not help.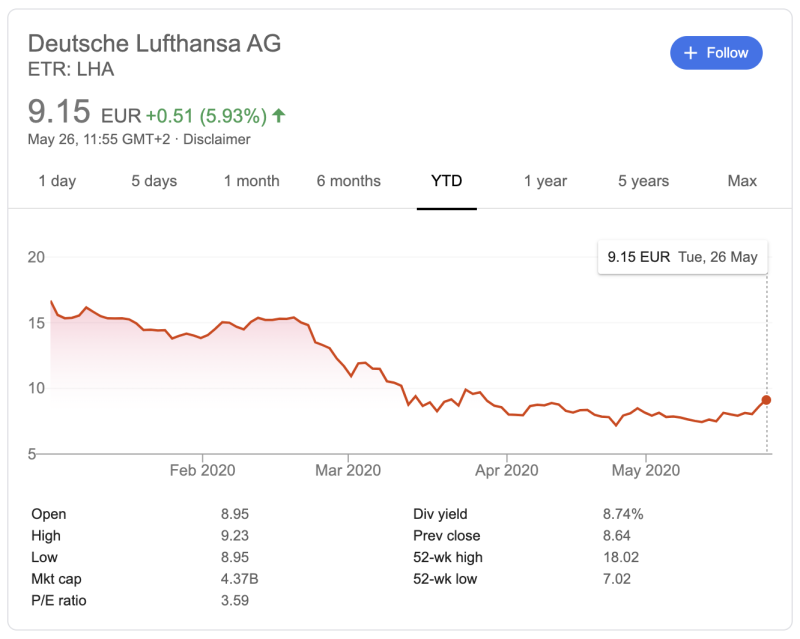 Lufthansa Stock. Courtesy - Google.
Another large company, LATAM, reportedly filed for bankruptcy today. LATAM is one of the largest airline companies in Latin America with multiple subsidiaries.
The stated that shareholders are ready to provide up to $900 million. Moreover, LATAM claimed to have $1.3 billion cash on hand. Still, the company is in talks with governments for receiving financial aid.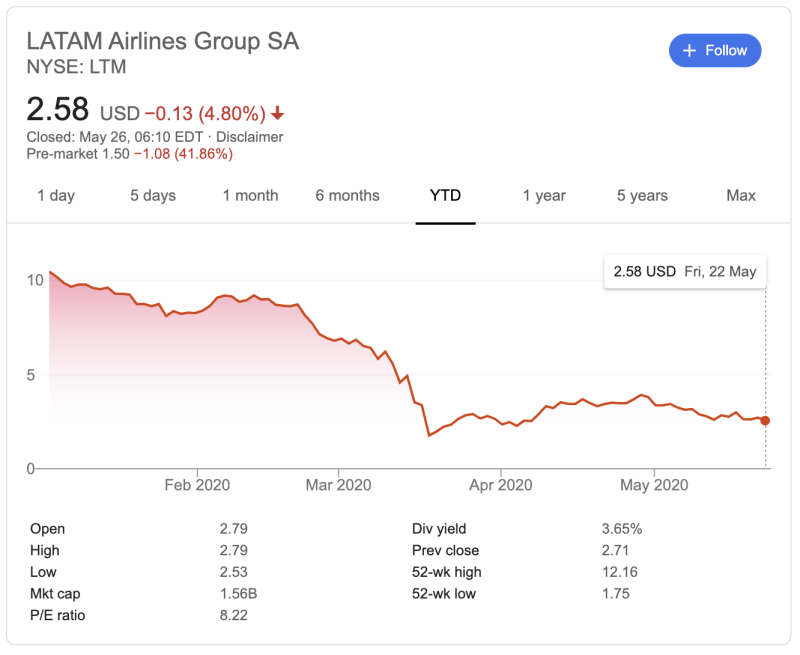 LATAM Stock. Courtesy - Google.
Both Lufthansa and LATAM will remain operational. For example, Lufthansa plans to resume 20 destinations in June. However, this does not mean that even if the flights are back, the demand for them will be high.