AMD Stocks Will Go Up
A trader and a technical analyst @StockDweebs believes that stock of AMD, a developer of computer processors and related technologies for business and consumer markets, have the potential to grow significantly. According to the trader, the nearest target prices are at $79, $89 and $100.
"$AMD... Advanced Micro Devices is looking good to me - added a position here. However, I wouldn't be surprised if we dipped just a bit more closer to $70. I have a few more contracts lower if $AMD dips throughout the week." @StockDweebs via Twitter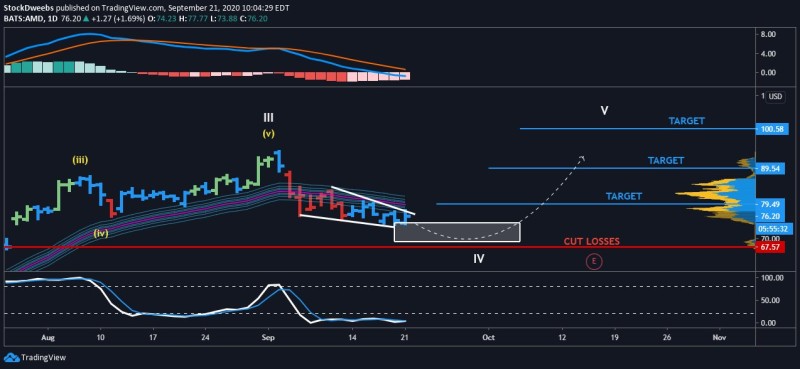 Image Source: Twitter @StockDweebs
Nevertheless, he warns of the possibility of a further drop of the AMD stock price to the level of $70, where a more serious support line is located, so the trader clarifies that he has not gone all-in yet, assuming a drawdown this week.
AMD's October Announcement of new GPUs and CPUs
This growth also has a fundamental rationale. Very soon, AMD will hold several presentations of its new products, which is promised to be loud. In early October, on the 8th, the company will present new CPUs, which use innovative Zen 3 architecture designed by AMD. On October 28, the company announced the presentation of the new GPU's on the new RDNA 2 architecture line.
Most likely, the new graphics processors will allow the company to directly compete with Nvidia, which by the end of this month will already release their next-generation GPUs on sale, which promise to double the performance of more than the previous generation models for the same price. Apparently, AMD is going to give a serious battle to Nvidia on its own territory.
Current Price
At the moment, the company's share price is slightly below $75. That's well below the $92 all-time high seen in late August. For the first three weeks of September, the company's shares have been slowly declining.
Image Source: Google Finance AMD