Tesla is looking to buy a stake in LG Energy Solution, soon to be split by LG Chem, to provide a reliable battery supply, bank sector's sources told The Korea Times on Monday.
How is This Good for Tesla?
LG Chem, Tesla and General Motors' main battery supplier, previously said its decision to spin off its battery business in December was based on its assessment that now is the "right time" to do so, as the battery market is steadily expanding and structural gains are being made in the electric vehicle (EV) sector.
From Tesla's point of view, any direct investment in LG would assist in the procurement, with no outstanding chance, of eligible batteries for use in its Tesla EVs.
Based on the announcement made by Tesla's CEO, Elon Musk, they will continue to rely on cell manufacturers heavily and on the huge executive risk of ramping, industry experts said Tesla is possibly going to continue working with cell suppliers for its latest developments.
Which Batteries will the Join the Venture Produce?
Tesla is seeking to find a sweet spot between battery size and energy power, according to the recent reports released by Bernstein Research, a leading independent investment research company. It is meant to maximize the development of larger cells.
In the future, priority will be put on higher capacity in 18650 Li-ion format — 21700 and 46800. Five times more power and a 16% more distance are given for the new 46800 cells. 46800 cells have a shorter power path to reduce the heat, are simpler to generate with fewer components.
How did Tesla's Stock React?
Shares of Tesla before the opening of the main trading session on Monday added +4.21% to the closing price of the Friday session. This is a certaintly positive signal for the company's share price.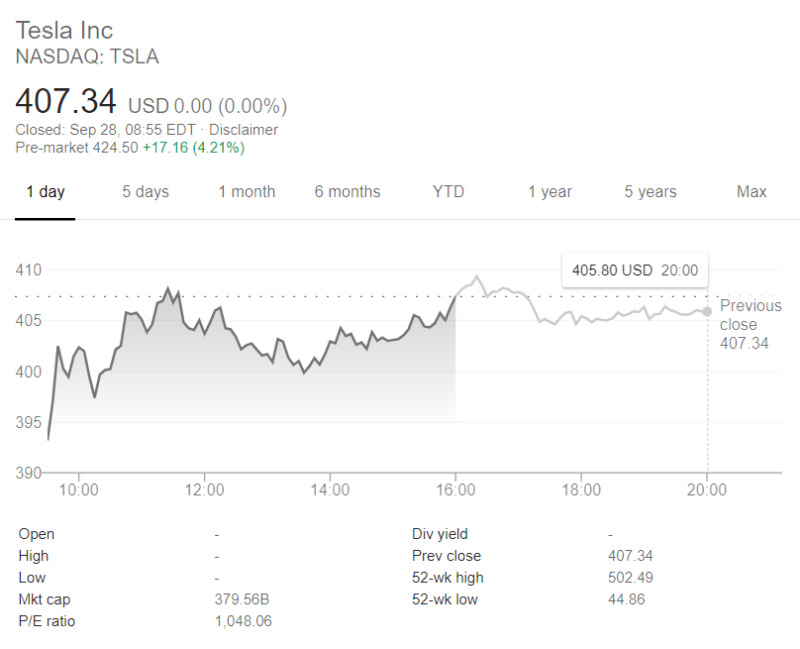 Image source: Google Finance TSLA