According to Yahoo Finance, the price of Beyond Meat (BYND) has rocketed by 22% just over the past 24 hours. Mainly, it is related to building a partnership with a Chinese food distributor, Sinodis. The company made an agreement with a local dealer to distribute plant food in grocery stores.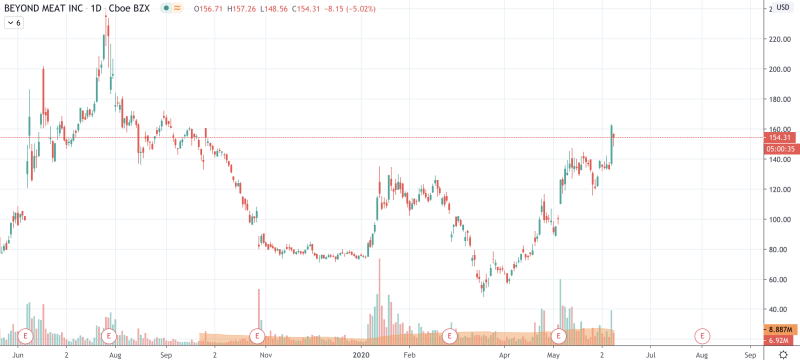 Image source: TradingView BYND
Since the beginning of the year, the shares of the manufacturer of vegetable substitute of meat, Beyond Meat Inc. (BYND, NASDAQ), have risen by almost 80%. The company's food products are becoming more popular among customers and continue to conquer retail and the catering industry.
During the first quarter, Beyond Meat increased its market share by 7.7%. A surge in demand (by 233% year-on-year) was observed, including the first weeks of lockdown, when citizens stocked up on food. Note that in contrast to the three-digit growth of Beyond Meat, the overall growth in the segment of vegetable meat substitute grew by 93% year-on-year in the same period.
Thus, despite the crisis, Beyond Meat continues to systematically expand its presence in the United States and international markets. This supports a positive outlook for the company's shares at least in the medium term.