Today Apple reopens more stores in Japan and more stores in other countries are on the way. The company does rather well during the global economic downturn.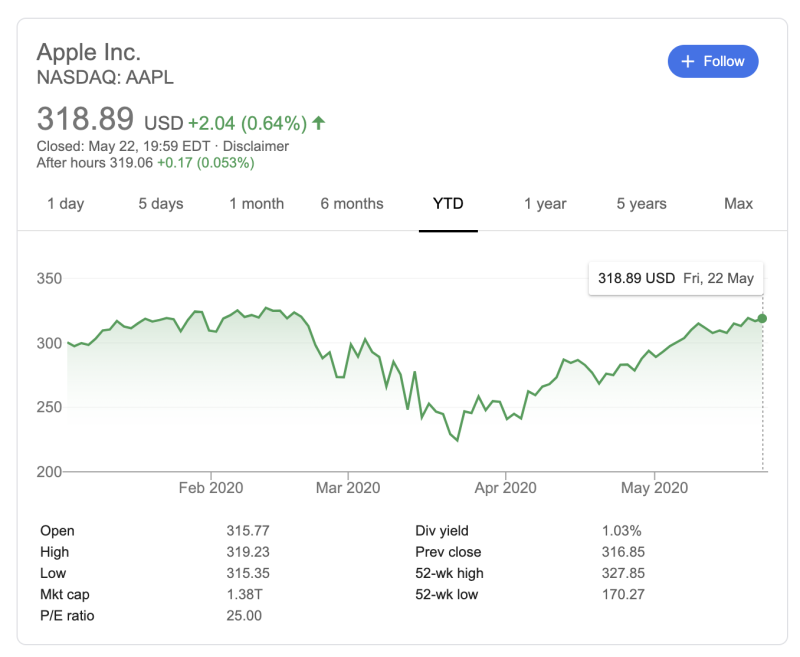 AAPL Stock Price. Courtesy - Google
The rough path out of uncertainty
Apple announced that it will be closing stores outside of Greater China in March 2020 in response to the looming threat to workers' and customers' health. At the time, AAPL was already being brought down along with the entire stock market.
Foxconn, the major production site for Apple devices, was also shut down for several weeks at the beginning of the year. This led to profits being almost wiped out, losses topped 90%. Hence, Apple's ability to meet the demand was endangered.
The outlook is positive
Still, the company seems to be overcoming the negative effects of the global turmoil. AAPL is almost on its pre-recession levels after bottoming out at the end of March. While some of the stock's growth can be attributed to the massive QE and buybacks, the state of the company's business looks optimistic.
According to the company website, Apple Stores in Fukuoka and Nagoya are now open for customers. This is the part of the program of the company's slow return to business after shutting its stores worldwide.
Apple quietly updated its lineup of devices. The company updated the budget iPhone SE as well as Macbook Pro 13. Besides, Apple's services continue gaining momentum, leading to revenues topping $13 billion in Q2, 2020, more than $2 billion than in Q2, 2019.
Apparently, Apple was successful in capitalizing on the fact that the majority of the world's population had to remain home for several months. The media consumption skyrocketed and Apple provided both devices to consume on and the product to consume.
Apple remains strong amid global uncertainty. Even that its business was forcefully contracted by the circumstances, it was able to sustain itself and now rebounds as the restrictions are easing.