Alibaba is increasing the leverage of its logistics distribution network in order to avoid competition from intensifying its main e-commerce company and is spending almost $1 billion to double its interest in the YTO Express Chinese courier.
Alibaba, based in Hangzhou, is still one of China's largest e-commerce platforms, yet its Taobao and Tmall markets have reported a slow growth, even as competitors like JD, have experienced pandemic boosts.
The company's shares showed good growth in trading on Monday, adding more than 3%, and on Tuesday the trend continued and the price was already breaking through the level of $300 per share.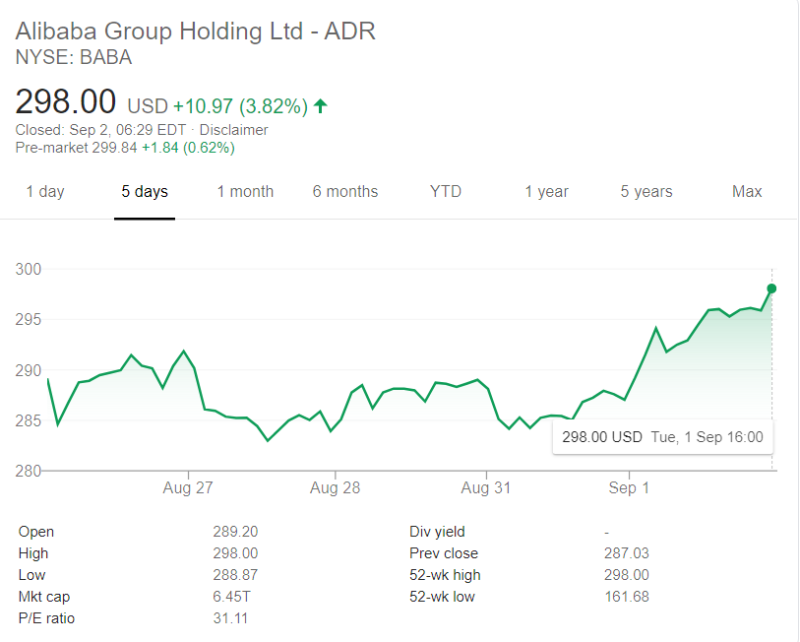 Image source: Google Finance BABA
This new investment would allow Alibaba and YTO, as part of their commitment to expand their worldwide presence, to improve cooperation in areas such as distribution and air freight, the global network and supply chains and digital processing.
In the course of the years, the e-commerce giant has spent separate sums in all five Tonglu big couriers, anchoring its logistics Cainiao arm, which reaches sellers and express courier with 50 billion plots each year.
YTO had founded 18 companies and 53 service stations in 150 countries and regions around the world. In the broader world, China's huge strategy for constructing railways, telecommunication networks and other types of infrastructures extend the drive from abroad to harness the immense export opportunities brought on by the Belt and Road initiative.