Facebook CEO Mark Zuckerberg said on Tuesday that a "tough decision" was made not to respond to President trump's provocative posts, which he posted on Facebook.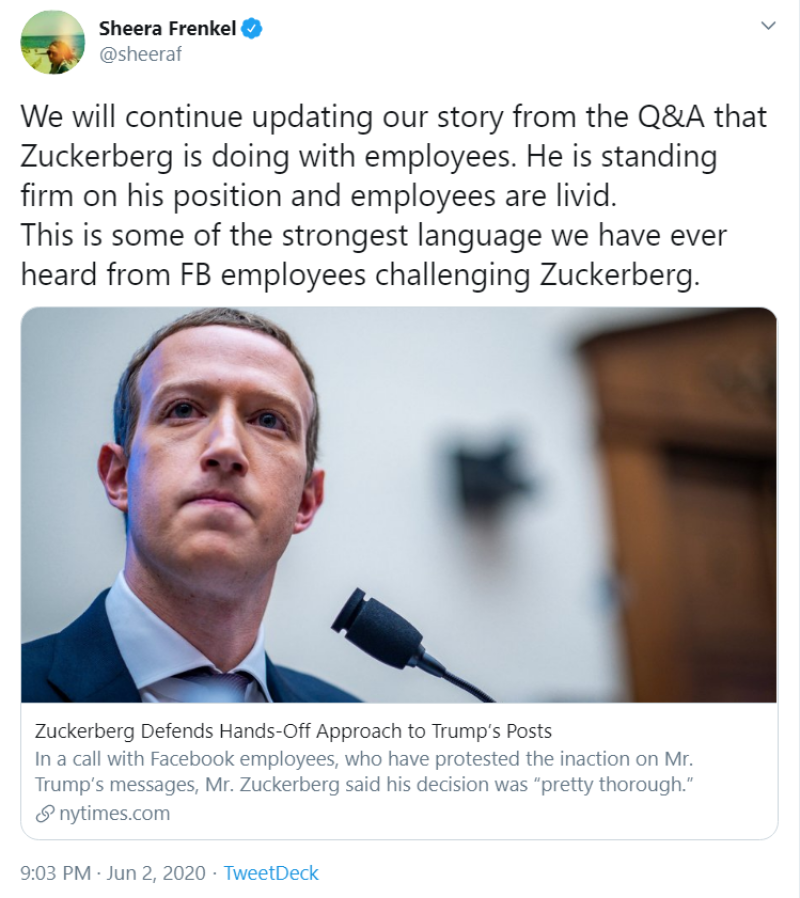 Image source: Twitter Sheera Frenkel
Mr. Zuckerberg attempted to defend his stance on the posts of Mr. Trump in a Q-and-A session with staff via video call, leading to intense internal dissensions. The meeting was originally scheduled for Thursday but was urgently postponed after hundreds of workers protested by staging a kind of "walkout" on Monday.
Zuckerberg believed that the current policy on freedom of speech is appropriate and nothing should be changed.
Some Facebook employees have publicly announced their resignations from the company and claimed that the company is moving in the wrong direction.
Facebook employees began publicly criticizing the platform's actions for inaction in relation to trump's posts, which provoked violence and mass riots in the country. There were also statements that Zuckerberg is afraid of pressure from the Republican party and therefore does not react to the incident in any way.
For five days, Mr Zuckerberg and Ms Sandberg spoke with representatives of human rights organizations in an attempt to justify their position. Mr Zuckerberg said he is still in favour of freedom of speech and the general interest and recognition that world leaders post online deserves. 
However, Zuckerberg failed to calm anyone down. Employees of the company continue to Express their dissatisfaction on their personal pages. Zuckerberg's position was also criticized by many politicians and journalists.
Recall that a wave of posts by trump about the protests in America caused discontent among employees, and moreover, the inaction of the Facebook management added fuel to the fire.