U.S. Lowest Yeilds in More Than Two Centuries
Jeroen Blokland, the head of Robeco asset fund, reports that yield 10-Year U.S. government bonds hit the lowest in more than two hundred years.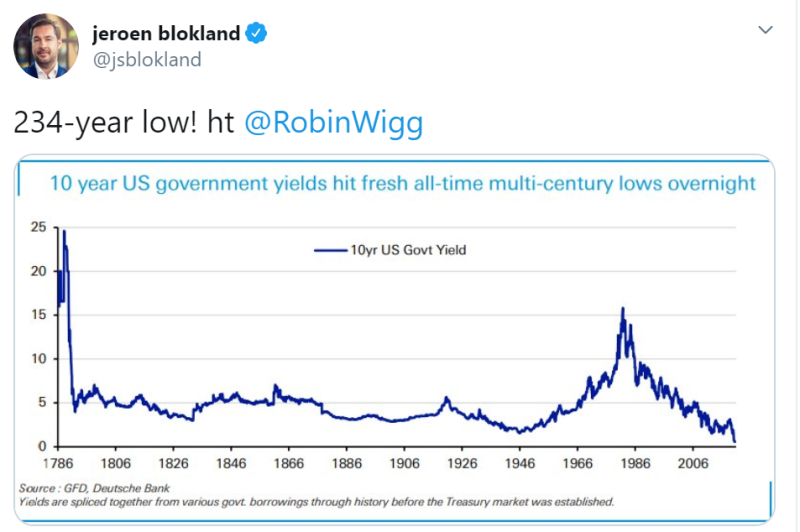 Image Source: Twitter @jsblokland
Official statistics of the U.S. Department of the Treasury says that the current yield on the last 10-Year bond issued is 0.55%.
10-Year Bond Yields of European Countries
Despite this, it is worth to note that the yields of 10-year bonds of the leading European countries are significantly lower in contrast to the U.S. figures. For example, according to Investing.com, the yield on similar bonds in Belgium, Germany, Switzerland, and France is negative (about -0.1% - 0.5%). UK bond yields are still positive, but are at around 0.1%, more than 5 times lower than ones of the US.
Image Source: Investing.com UK 10-Year bonds yield
The rates of U.S bonds will continue to decline and update the historical lows if the following criteria are met:
1. This imbalance persists;
2. It is fueled by the continued growth of demand for less risky assets;
3. There is an increase in the volume of debt with negative yields.
A Sign of Coming Recession
Michael A. Gayed, a portfolio risk-manager and an analyst, reports that the U.S. Treasury yield curve is flattening.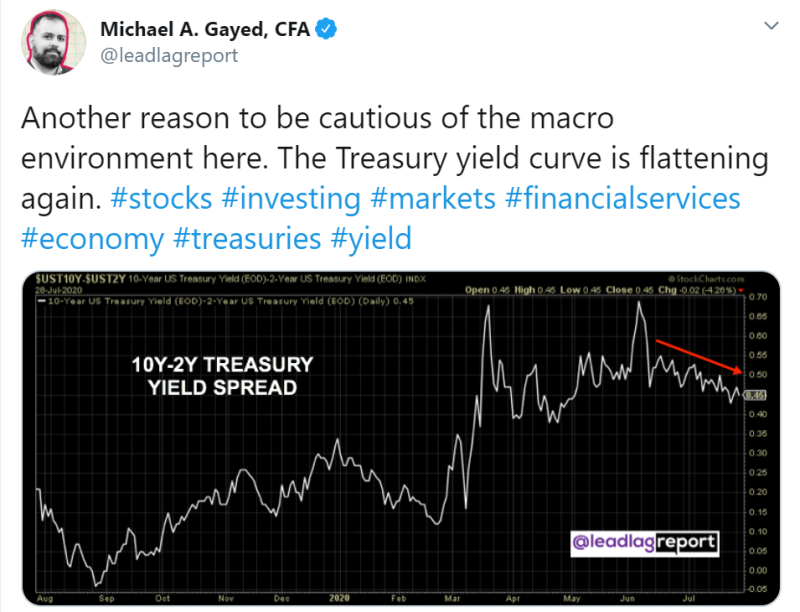 Image Source: Twitter @leadlagreport
This means that the difference between the yield on bonds with a maturity of 2 years and 10 years is decreasing: long-term investments bring less profit, and short-term ones, on the contrary, bring more. This fact may be a sign of an approaching economic recession.