The price of oil declined on Friday and the continued strong overnight loss could be increased with a new outbreak of COVID-19. This could greatly affect demand for the world's largest crude oil and fuel consumption.
Brent LCOc1 -3.5%
West Texas Intermediate CLc1 -3.8%
The first weekly drop of oil prices is approaching in seven weeks with Brent and US crude sliding more than 12 per cent while rising inventories still weigh rates.
Some of OPEC+ countries are cutting supply by record amounts.
It is now clear that the deepest OPEC+ cuts, 9.7 million bpd, will end at the end of July, ratcheting down to 7.7 million bpd Greg Priddy, director for global energy and the Middle East, at Stratfor
According to government reports, US crude oil and petrol stocks rose last week. Inexpensive delivery from Saudi Arabia has poured into the world. US crude oil inventories rose to the record 538.1 million barrels.
This raised concerns over a continuing imbalance of supply and demand. The number of patients who fill up hospital beds in Texas and Arizona has increased and it is difficult to cope with.
The market has long expected a correction in growth, after a sharp fall in March. The words of some economists and analysts are confirmed in today's markets. 
Andrew Sentance claims that the correction was not long in coming. According to him, we should not be optimistic since the growth of stock indexes was not accompanied by the growth of the real economy. At the same time, there is an increase in unemployment in all sectors.

Image source: Twitter @asentance
David Buik supports his point of view. It is too early to talk about optimism with the current statistics of unemployment and reports of a decline in GDP.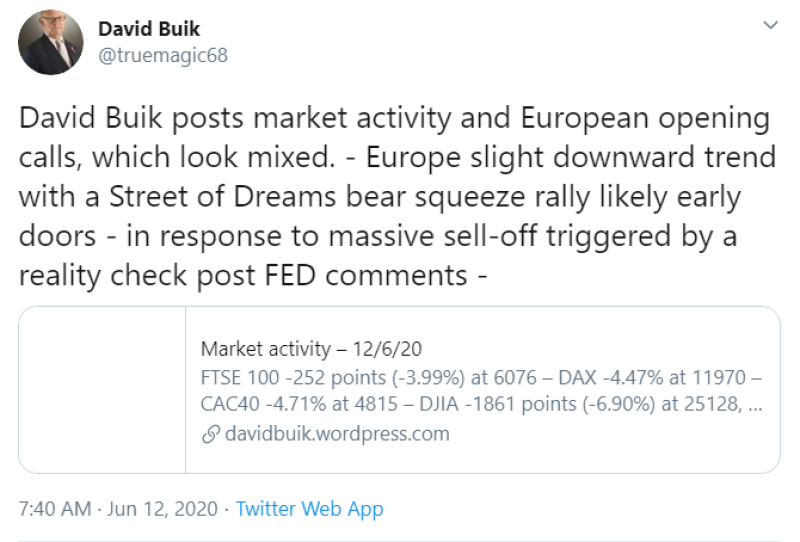 Image source: Twitter @truemagic68