On Thursday, the stock of the company Shopify (SHOP) sets new price records. At the time of writing, the stock is up more than 5%. The price per share hits $862.5 and is not going to stop.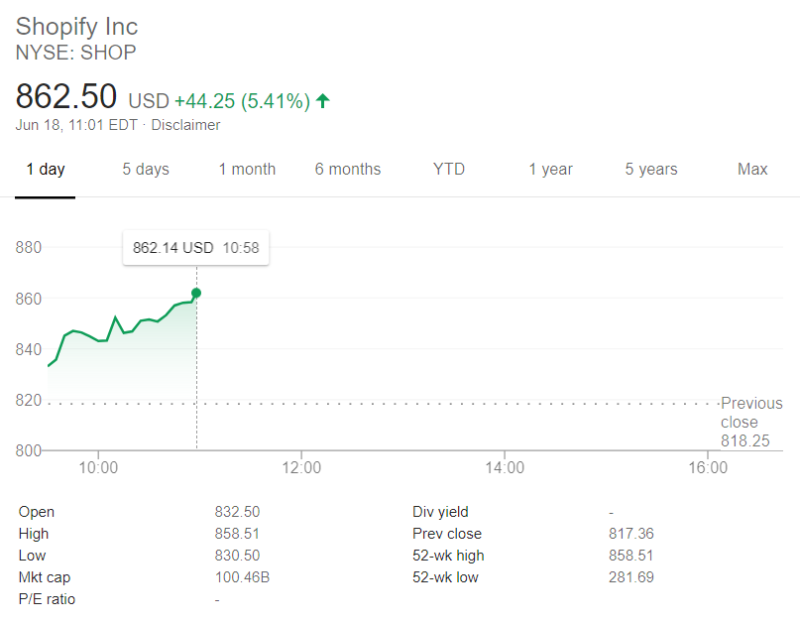 Image source: Google Finance
Shopify shares have more than doubled in 2020. At the moment, it is one of the most expensive Canadian companies. The growth of shares occurred despite the changes in consumer's demand due an increase in online commerce during the pandemic.
The Royal Bank of Canada currently has a higher rating on the stock. SHOP highs were at $850.00 and last traded at $844.41 with a stock volume of 593335. Earlier, the stock closed at $817.36. The Bank has now raised its target price by $1,000.
It is a consequence of getting attention from institutional investors and hedge funds. So, Trust Advisors LP owns 3,499 shares of the online platform worth $723,000 after purchasing an additional 472 shares last quarter. Clear Perspective Advisors LLC acquired about $200,000 worth of Shopify shares. State Street Corp increased Shopify's stock count by 299.3% during the 4th quarter.
Earlier this week, Shopify announced a partnership with American retailer Walmart. Users of the online platform will be able to sell their products on the Walmart marketplace using their accounts.