Peter Schiff wondered about the end of the bull rally in the stock market. The reason for such discrepancies was the fall before the close of the Dow Jones Index. Everything would be fine, but at the same time, gold, as a protective asset, kept the bullish trend and added in value.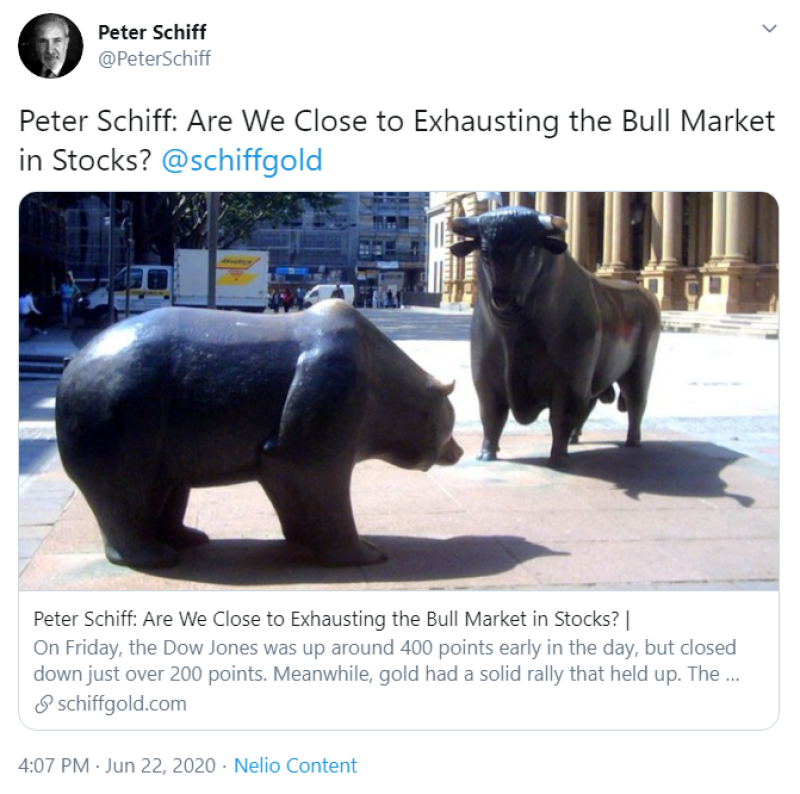 Image source: Twitter @PeterSchiff
At the same time, Schiff indicated in his program that he expects these markets to grow further. And yet he claims that the stock market has lost momentum. As a result, a bearish trend in the stock market may begin.
A day earlier, the price of gold settled at $1,744. This is the highest close of the week after the March decline. Schiff believes that gold will breakthrough within a week or two. And at the same time, the stock market will collapse, as investors will begin to transfer funds to a safer asset.
What was the reason for the bullish rally?
The growth of the stock market was based on far too optimistic news about the imminent recovery from the pandemic. However, real indicators, such as unemployment, do not reflect this. Schiff reminds that the stock market was overvalued before the pandemic.
There is no reason for the market to return to the level that it occupied prior to the collapse because it never should have occupied that territory in the first place Peter Schiff, economist
Schiff also believes that the recession is not over yet and this is just the beginning. According to him, such event cannot take place in a few months inconsequentially. It should last longer and will be much more destructive on a larger scale.