Microsoft will continue negotiations about purchasing TikTok's U.S. operations after a some agreement is reached between its CEO, Satya Nadella, and President Donald Trump,
The statement indicates that TikTok's U.S. operations are open to a contract to be sold to a U.S. owner. Trump said on Friday that he would block TikTok and would not allow its takeover by Microsoft.
However, it is worth to take a look at this transaction from the Microsoft's point of view. Microsoft, buying TikTok, is going to enter the social media market. A mobile app expert, Nathan Lawrence, tweets that this is not Microsoft's first attempt to become a part of social media world. Last time, to become a true community member, the tech giant acquired the LinkedIn platform.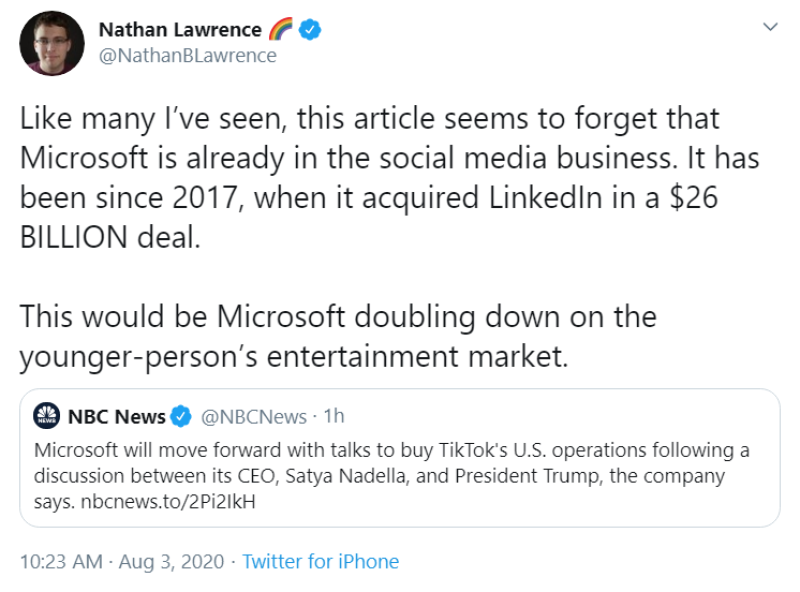 Image source: Twitter @NathanBLawrence
Microsoft has agreed to ensure that all private data from American users of TikTok is transmitted to and remains in the United States. Microsoft will promise that any data would be deleted from computers outside of the world after it has been relocated, such data is already processed or backed up in the US.
After the deal is signed, Microsoft will be take a good niche among the social media platforms and will have a chance to outperform such giants as Facebook, Google, and Twitter.