Charlie Bilello (@charliebilello), a founder of Compound Capital Advisor, states that the combined market capitalization of Google (GOOGL), Amazon (AMZN), Microsoft (MSFT) and Apple (AAPL) has reached $6.2 trillion, which is higher than the GDP of every country, except for the United States and China.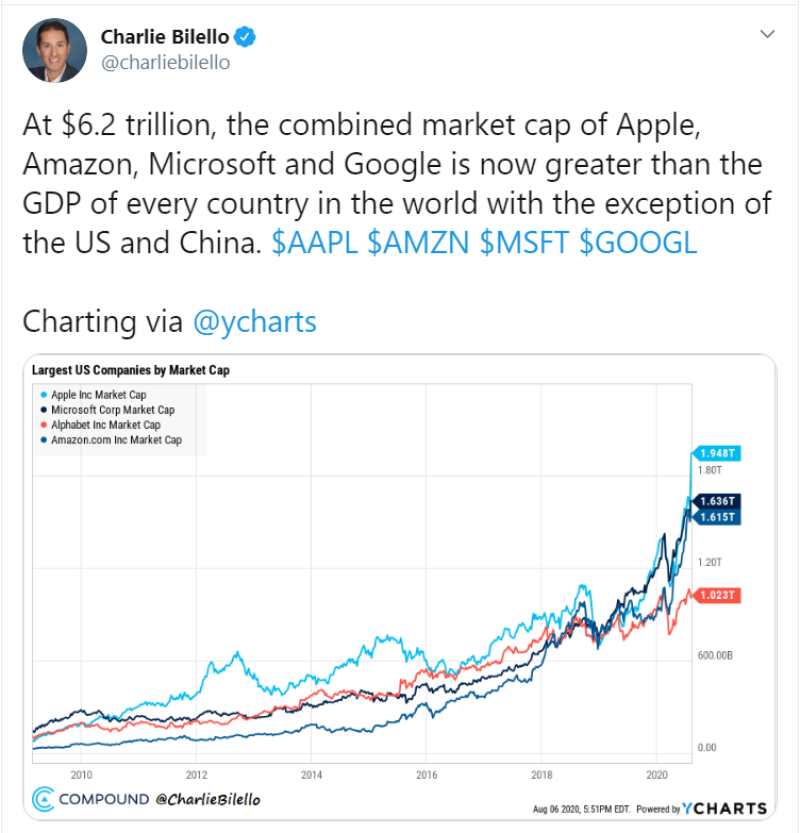 Image Source: Twitter @charliebilello
Great Data from Q2 Report
Those companies have shown better than expected second-quarter earnings' figures. Apple's earnings reached $2.58, while analysts expected it to be around $2.04. Google's earnings report has also exceeded analysts' expectations by making it to $10.13 against the predicted $8.31. Amazon reached $10.30 against $1.46. As for Microsoft, the company has also shown better results by earning $1.46 against $1.34. Those companies' growth was partially due to the fact that they have many online services, which are of high demand during the coronavirus pandemic.
Drivers of the US Stock Market
US stock market's growth is supported by weak US economic data. It is worth to mention that the recession in the US is very deep as the US economy plunged for more than 30% in the second quarter. However, today's US unemployment data is better than expected, which supported the US dollar index.
Investors are currently in a positive mood, because quarantine measures are abolished in several countries, but they may come back as the number of COVID-19 cases grows.