FAAMG Domination Over Other S&P 500 companies.
Despite the worst six months for the market in the U.S. history, the top 5 S&P 500 companies are reported to be performing incredibly well. These are Facebook, Apple, Amazon, Microsoft and Google. Together they are called FAAMG for short.
After Thursday's reports that exceeded all expert's estimates, the stocks of all five companies rose. After that, their total capitalization reached 20% of the entire S&P 500 index. This happened for the first time in 42 years. According to the Financial Times, it's also the first time that all those companies happened to belong to the technology sector.
Image Source: ft.com
The Imbalance Incites Some Issues
This imbalance creates two problems at once: for investors and for the market. The S&P 500 index is the most popular for assessing the situation happening on the markets.
First, the skew of the index towards only 5 companies (1% of the total) means that the index is becoming unstable, because any growth of 495 companies can be outweighed by the fall of shares of only 5 giants. This carries significant risks for holders of ETF's, which are connected to the S&P 500.
Second, the incredibly rapid capitalization growth of the largest tech companies is risky in itself. Many experts believe that these stocks are highly overvalued.
Previously, the growing disparity between the biggest companies in the S&P 500 and everything else was reported. Sven Heinrich said that the same FAAMG were the only companies that showed growth since January. The rest 495 companies in the index are at the January level or have not recovered even to the January prices.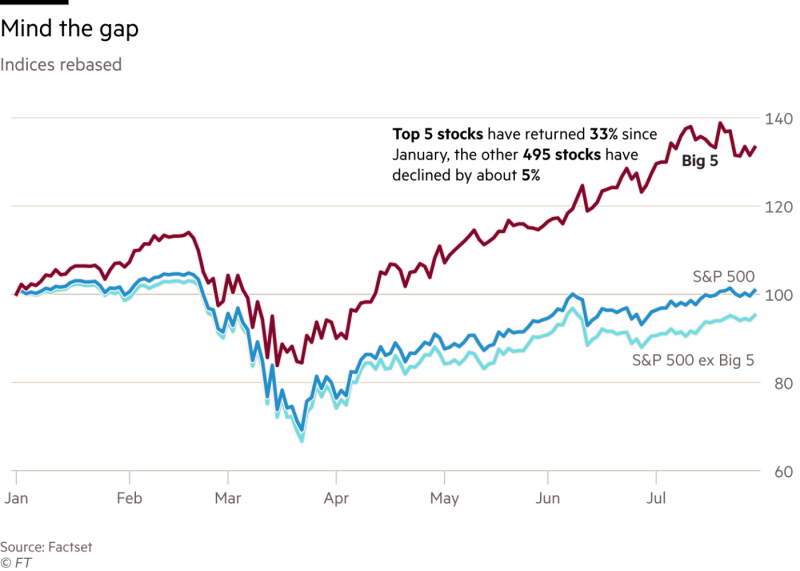 Image Source: ft.com