Amazon stock's price continues its uptrend, according to The Flying Stocksman (@flyingstocksman). The chart, they have recently published, shows that the price of the stock stays above the sky, which is a strong Bullish indicator for AMZN. However, if the price of the stock falls down, the "sell" indicator will appear. The stock has had sustainable growth since 2009, which is combined with some periods of sideway fluctuation.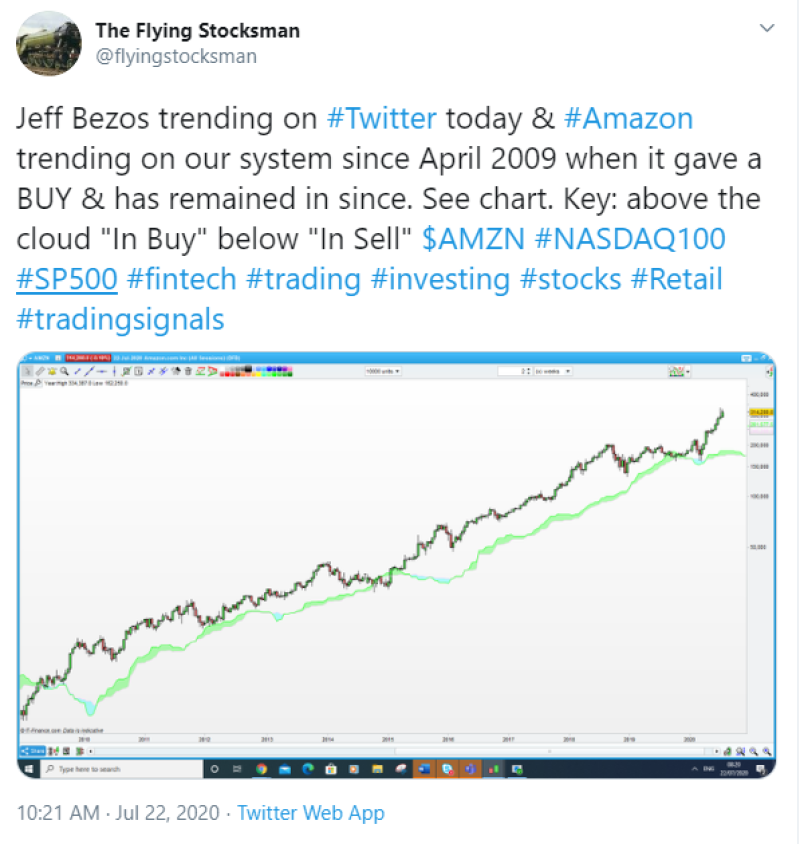 Image Source: Twitter @flyingstocksman
Amazon's Current Situation and Background
U.S online retailer has had strong positions this year despite the global economic crisis. The company has managed to hit a $280 billion revenue mark continuing its YoY revenue growth uptrend. However, their quarterly revenue reports are not so optimistic. Amazon revenue plunged below $80 billion in the first quarter of 2020 after growing to almost $90 billion mark in the last quarter of 2019. 
Amazon stocks have started this year below level of $2,000, but the price surged significantly in April and developed the uptrend until the mid of July when it stopped for a correction.
Amazon's success derives from the company's multiple strategies oriented on market expansion and its investment policy. The company continues to hire workers to meet the growing demand. Amazon increases workers' salaries as well. Hiring workers is a big necessity for the company as they have faced a huge problem with the growing demand from households across the United States.
Another great deal for Amazon was to invest in Rivian startup. The company develops its transportation branch by adding electric vans to its stables.