The Market Is Hedging against the US Elections Risk
Michael A. Gayed, a portfolio risk manager and a market analyst, reports that the market is preparing to hedge against the uncertainty that will hit the market in November when the US presidential elections are held.
According to him, demand for futures on the VIX index, which tracks market volatility, peaked in November, far exceeding investors' interest in futures for the remaining months.
$VIX futures are peaking in November as uncertainty over the US election is expected to result in volatility, especially if there is a disputed result #stocks #markets #economy #investing #financialservices #trump #biden #trumphascovid Michael A. Gayed via Twitter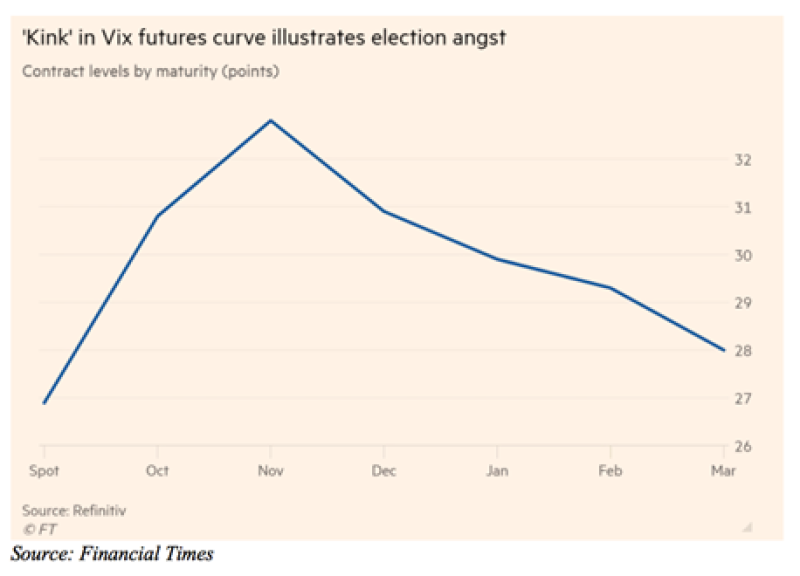 Image Source: Twitter @leadlagreport
Analysts point out that volatility always grows ahead of elections. However, this time the situation is aggravated by a very high level of uncertainty, since, on the one hand, Trump is supported by extremely few people in the United States, and on the other, as statistics show, in 2016 he had even fewer supporters, but this did not become an obstacle on the way to victory in the elections.
But Now Volatility Is Low
However, at the moment the situation with market volatility is exactly the opposite. According to Helene Meisler, an analyst and a columnist for DailyMoney.com, reports that over the past 10 trading sessions, the VIX put/call options ratio has almost always been greater than 1.

Image Source: Twitter @hmeisler
The put/call futures ratio reflects the market sentiment for the asset. If this ratio is small, then investors believe in a bullish trend. If the ratio is greater than 0.7-1, it means that investors are preparing for the fall of the asset.
However, in this case, this is more positive information, since the belief in a decrease in volatility actually means increased confidence in the stability of the market and the absence of sharp movements. As a rule, it is the increase in volatility that heralds a change in the trend in the market, which often causes panic among investors.