Walter Vannelli, forex expert and professional trader, notes that the dynamics of the EUR / USD currency pair, caused by the US presidential elections, is fading away. In recent days, the rate has been in the corridor between 1.17 and 1.18.
EUR/USD Is Flat, Election Rally Is Over #Eur/usd flat here inside 30m trading range 1.1799/1.1833....zzzzzzzzz Walter Vannelli via Twitter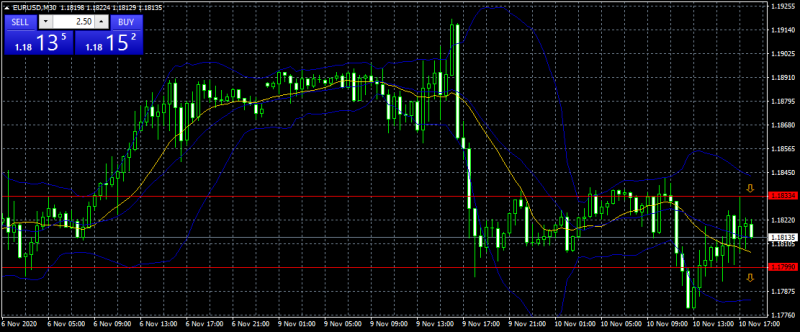 Image Source: Twitter @waltervannelli
Michael Boutros, trader and technical strategist at DailyFX, also points out to the weakening of the euro rally over the course of election week. After a rapid surge, the euro falls more than 0.9% off the weekly highs, which suggests that the currency failed to break through the resistance level and gain a foothold above it, giving bearish signals.
#Euro Outlook: $EURUSD Breakout Fails Resistance- #Election Rally Over? Michael Boutros via Twitter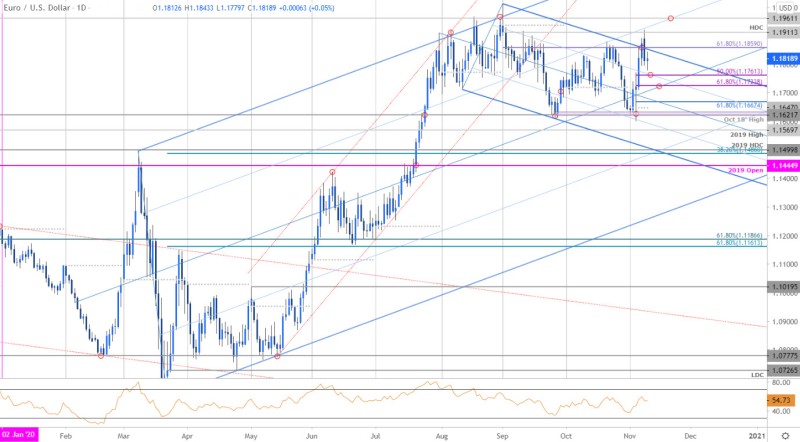 Image Source: Twitter @MBForex
At the same time, it should be noted that the Euro trader sentiment chart shows a significant increase in the number of open short positions in the currency pair, over the past few weeks of trading, long positions have decreased from 50% to less than 30%.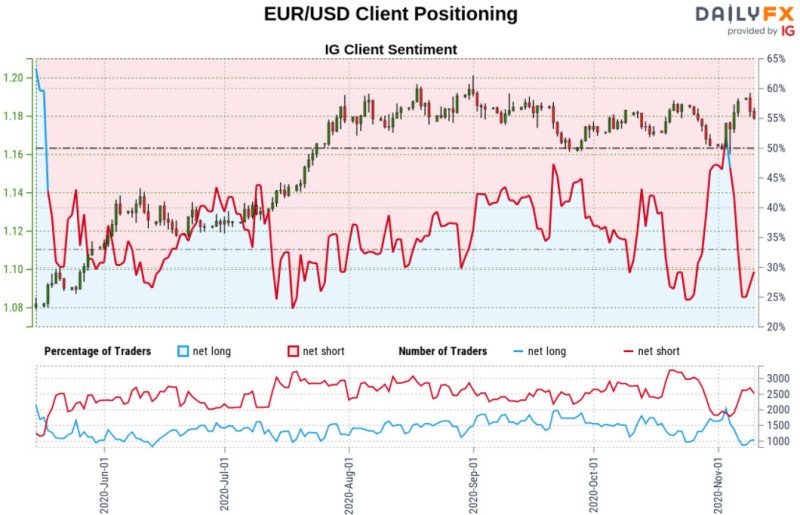 Image Source: Twitter @MBForex
$VIX Positioning spiked even more this week... now 40% of OI, one of the biggest Shorts in history. This big Vol Short is very different from the last election. They could all be right – but the key risk remains: if anything goes wrong, it could lead to large losses
Analyst @macrocharts notes that the number of open short positions on the VIX index is already one of the largest in history, significantly surpassing the events that took place before the 2016 presidential election. It is with the elections that the analyst connects the changes in volatility, stressing that almost 40% of open interest on the VIX is now in the hands of shortists.
However, he notes that the shortists' plan may not be successful: if something goes wrong, the whole scheme could end up crashing along with the market.
Previously, analysts expressed different opinions about the future of the US market after the elections. For example, @mardermarket, a market researcher and trader, noted that a technical figure in the form of a cup was formed in the Nasdaq index.