Bitcoin Will Be the Asset of Future Generations due to the Infinite supply of Gold
Tyler Winklevoss, a cryptocurrency and Bitcoin investor and a founder of Winklevoss Capital Management and Gemini cryptocurrency exchange, states that in the long term, Bitcoin is much more immune to inflation than gold.

Image Source: Twitter @tylerwinklevoss
He claims that in the future, gold will have an extremely low value relative to Bitcoin, this will be due to the supply of gold mined on asteroids. At the same time, the Bitcoin support will remain fixed.
Asteroid Mining Might Cause Inflation Same as Spanish Supply of Gold 500 Years Ago
Mr. Winklevoss relies on the message by Balaji S. Srinivasan, a former CTO of Coinbase and a general partner at Andreessen Horowitz, who claims that the amount of gold in the galaxy is unlimited. At the same time, bitcoin in this case is a scarce, in the sense that it, unlike gold, it cannot be mined indefinitely.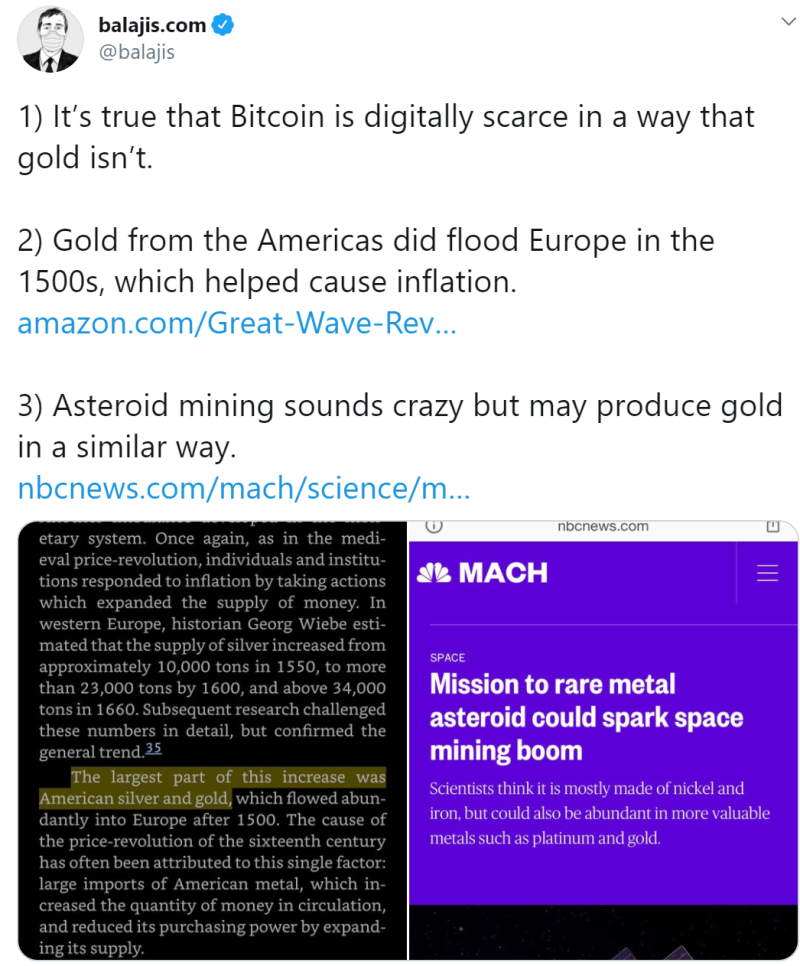 Image Source: Twitter @balajis
The statements about the infinite amount of gold in the galaxy are based on the assumptions of scientists that asteroids contain not only nickel and iron but also much rarer metals such as gold. Mr. Srinivasan believes that when asteroid mining begins, the influx of gold will cause significant inflation, as it happened in Europe in the 16th century when Spain began importing large quantities of gold and silver from South America.
Cameron Winklevoss, Tyler's twin brother, has also expressed his opinion on Bitcoin. He also believes that Bitcoin is the best asset for insuring against inflation, which is bloating the market now.