Twitch starts receiving deposits in Binance (BUSD) crypto-monetary trading stablecoins. This message was posted on the Binance' Twitter.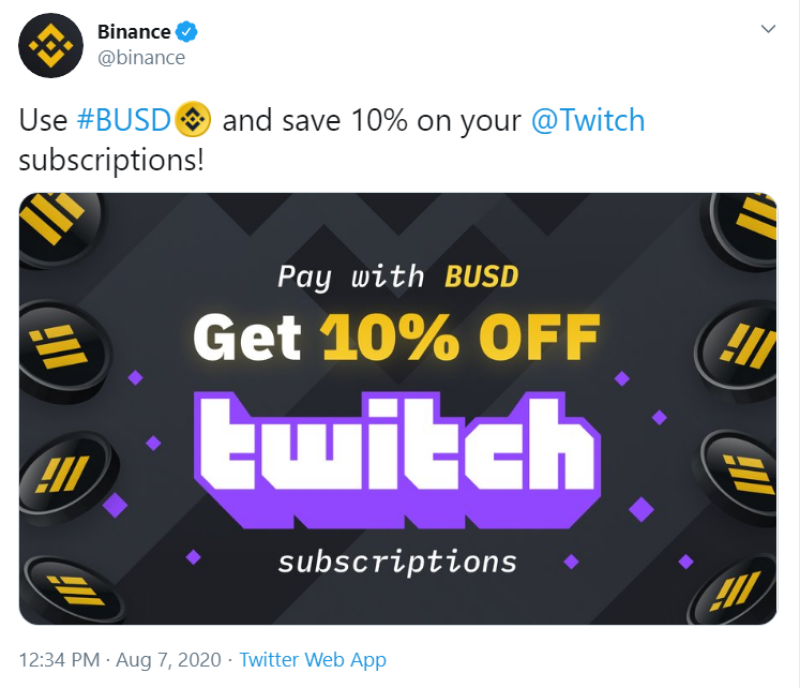 Image source: Twitter @Binance
Subscription payments are made by the Bitpay payment service, which has also been accepting payments in stablecoin from Binance since April. At the same time, the cryptocurrency exchange announced that users will receive a 10% discount when subscribing to a service and paying in BUSD.
Information about paying with that cryptocurrency was also posted on the Bitpay website itself saying that you will get a discount when paying for a Twitch subscription.
What is BUSD?
BUSD is a stablecoin created by cryptocurrency exchange, Binance. It is a highly regulated 1:1 USD-backed crypto stablecoin. These are digitized US Dollars and are always purchased and redeemed at 1 BUSD per 1 US dollar.
Also, this stablecoin has a reputation for being reliable in the crypto industry. This coin was approved by the New York State Department of Financial Services (NYDFS and was issued in partnership with Paxos.