The currency pair has a long setup. XTS/USDT is going to start an uptrend according to VEOMaximalist (@CryptoMaestro). Tezos fluctuated within a triangle for some time and currently, it seems to break it out to go higher. The currency pair has already broken out a 2.9290 resistance area and now the path to new highs is opened.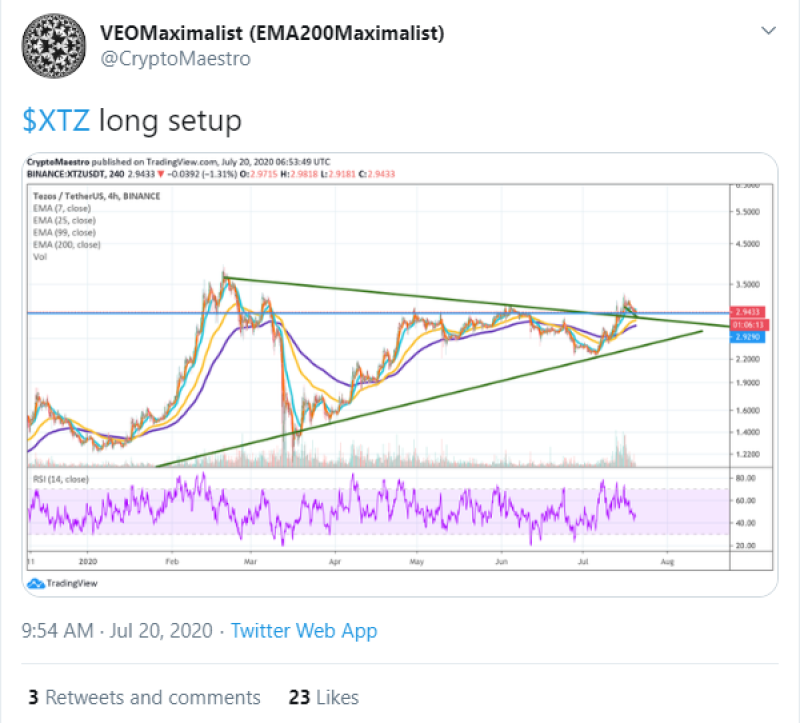 Image Source: Twitter
Tezos' Background
This is a Blockchain platform, which is able to modify itself with minimal disruption to the network via an on-chain governance model.
This Blockchain uses the Proof-of-State consensus mechanism instead of PoW, which is used in Bitcoin Blockchain. The whitepaper of Tezos was released in 2014. In 2017 an independent non-profit Tezos Foundation was created. All the stakeholders at Tezos can participate in managing the protocol.
Tezos' team includes Arthur Breitman, a project's creator, and a former Google X research engineer. He is also famous for working as a quantitative analyst for Goldman Sachs.
His wife, Kathleen Breitman is the CEO of Tezos. She worked for the R3 consortium as a senior strategy associate.
The president of the Tezos Foundation is Ryan Jespersen. He was an ordinary Tezos' community member but after several scandals and petitions on his behalf, he became the president of the foundation.
Tezos has a betanet, which is available to the community to conduct the transactions. Tezos is considered to be a more flexible and scalable Blockchain in comparison to Ethereum and other dApps platforms. The protocol allows the community to make changes when the majority of votes is reached.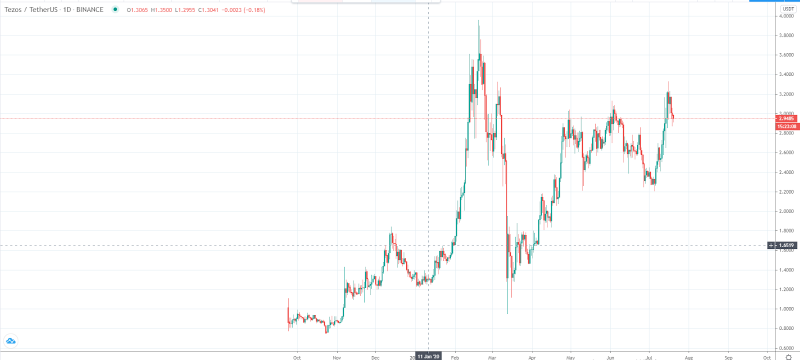 Image Source: TradingView
Tezos has reached its all-time highs in March 2020, but had a serious correction later. Currently, the currency pair is close to the ATH and the experts forecast further growth for Tezos.