On 25 September 2020, the Kucoin cryptocurrency exchange was compromised, although preliminary figures indicated a loss of around $150 million on the trade site. On Sunday it is estimated that more than 200,000 dollars in crypto coins were stolen by the crypto hacker group.
The Actual Damage
Today, on Twitter, Larry Cermak recalculated the number of stolen funds from the accounts of the cryptocurrency exchange. According to his estimates, the amount of stolen funds is about $280 million, which makes it the third-largest amount of funds hacked by crypto exchanges.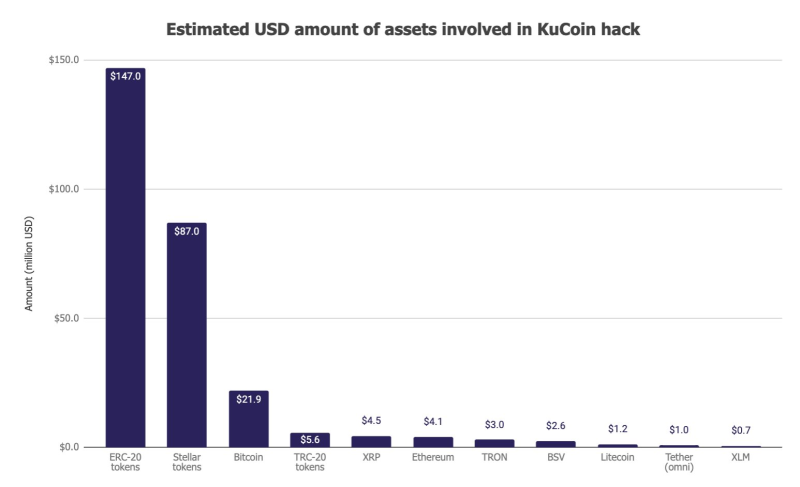 Image source: Twitter @lawmaster
So I did some accounting of the KuCoin hack based on the wallets very likely associated and based on my estimation, there was nearly $280 million of assets stolen, not $150M. This would make it the third-largest hack in history and 7 times larger than the Binance hack last year.. Larry Cermak @lawmaster via Twitter
Many Kucoin customers seem to think that the exchange treats the hack adequately and posted on the situation on Youtube during Johnny Lyu's live stream. One XRP supporter said Kucoin was "truly clear."
Damage Compensation For Hacking
Kucoin states that consumers will be reimbursed and in about a week, the trading site will be live again. Kucoin also noted that it works closely with law enforcement agencies with different exchanges and blockchain networks.
Larry also questioned the security of the exchange, and whether they will be able to return funds to their investors. Despite the fact that many stolen tokens may be low-liquid or "abandoned", the exchange will need to pay users.
List of what will likely be recovered:- Velo ~$76 million- Tether ~22 million- Orion ~$10 million- KardiaChain ~$10 million- Ocean Protocol ~$9 million- VIDT Datalink ~$7 million- NOIA Network ~$5 million- Covesting ~$600KThat's about 50% of the total hack. Larry Cermak @lawmaster via Twitter