Decentralized finance (DeFi) is reportedly bubbled with half a dozen top DeFi tokens that have been dumping half its fiat worth over the last 7 days. Today, the DeFi sector recovered 14% in one day. Over the past 24 hours, Ethereum has also recovered by almost 11%.
Swerve (SWRV) is in the growth leaders with a value of 39.62%, followed by Yearn Finance (YFI) with a recovery of 37.6%, Loopring (LRC) with 29.9%, Aave (LEND) with 29.4% and SushiSwap (SUSHI) with 27.8%.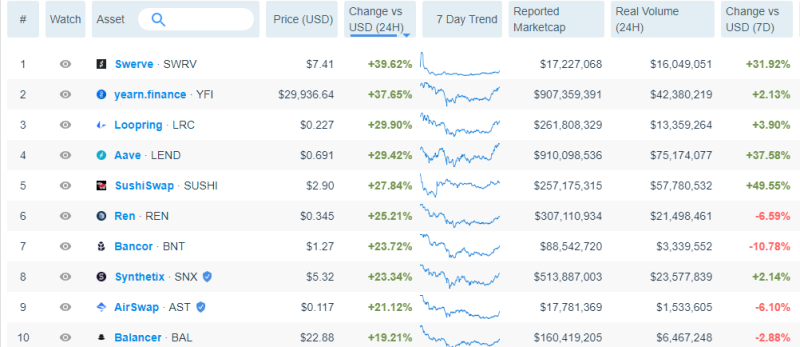 Image source: Messari.io
Despite the declining annual return from storing Ethereum (ETH) inside the yearn Protocol.finance (YFI) the price of the YFI token has been growing since its launch. But this continues against the backdrop of a growing daily yield of stablecoins, which increased by 0.1%.
The prices of DeFi coins may be compared to the rest of the crypto industry. ETH, second-largest crypto-currency by market value, is a popular currency on both of these protocols. All the relevant Defi protocols exist on the Ethereum network, which implies that DeFi tokens, on average, grow better than other tokens in the Ethereum ecosystem. 136 out of 178 ETH-based tokens are growing by more than 8.3% per day.
While an alt season is marked by altcoins that outperform bitcoins, this is usually when Bitcoin's price is increasing. Most big altcoins equate with bitcoins, though certain altcoins will leap higher as the BTC increases and vice versa.
But what fuels the latest spike and impacts only certain classes of tokens or properties with certain features? Here's a closer look at the relatively high season as Bitcoin starts to cool down to a low annual pace.